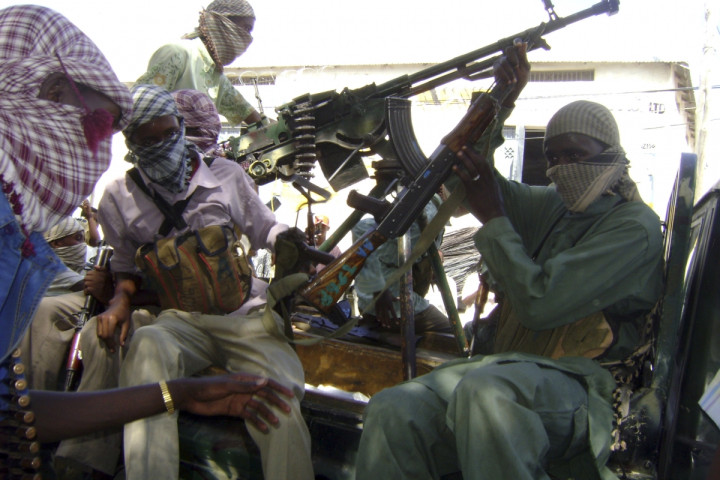 Suspected Islamist militants have opened fire on several hotels and a police station in the Kenyan coastal town of Mpeketoni.
According to witness reports, the gunmen opened fire into the crowds from two minibuses around 8pm (1700 GMT), with gunshots reported up to four hours later.
Local police chief Hamaton Mwaliko told Reuters that the gunmen had hijacked the vehicles in nearby Witu town to carry out the attack.
It was reported by Kenya's Standard newspaper that the attackers had stolen weapons and vehicles from the police station, which was set alight.
"They raided Mpeketoni police station first," said Mwaliko. "Some hotels in the town are on fire. We don't know how many casualties are there for now. We understand the attackers have already fled, but our officers are pursuing them."
Cafes and bars were reported to have been busy with people watching the World Cup on television.
Details of casualties have not been released, however eye witnesses reported seeing six dead bodies after the attack.
Kenya has suffered a number of militant attacks since 2011, when its forces entered neighbouring Somalia to combat al-Shabab fighters.
No group immediately claimed responsibility, but it is the latest in a series of attacks or bombings to hit Kenya.
Kenyan army spokesman Major Emmanuel Chirchir said the gunmen started "shooting people around in town".
The "assailants (are) likely to be Al-Shabaab," Chirchir said, referring to Somalia's Al-Qaeda-linked insurgents.
The Shabaab have claimed responsibility for a spate of deadly attacks against civilians, including one on Nairobi's Westgate mall in September 2013 in which at least 67 people were killed.