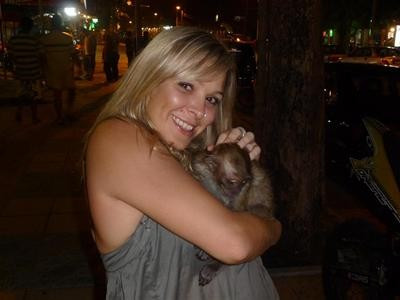 Kerry Anne Rome, a Briton who was Al Jazeera's first female director, has died in a motorbike accident in Qatar, where the station is based.
Rome, 33, from Thurlby, Lincolnshire, died after being hit by a motorcycle while crossing the road in Qatar's capital, Doha, where she worked as a technical director for the network's English-language station.
Her husband, Mark Harris, 36, paid tribute to her, saying: "She lived life to the max Words can't do her justice. She used to take me on a roller coaster ride, always saying, 'Come on Mark, next step'.
"Wherever she went, she made friends with the locals and children loved her and would come up to her all the time."
Her mother, Margaret Dench, told Peterborough Today about her admiration for her daughter.
"She was such a vivacious person and so full of life," she said.
"Considering how young she was, she has done so much in her life.
"When we went out there and saw what life was like, we realised how strong a person she was.
"We are all so incredibly proud of her and what she did."
A memorial service will be held for the ambitious director on 21 May at St Firmin's Church, Thurlby.
A JustGiving page has been set up in her memory to attempt to raise money for the When You Wish Upon a Star foundation.
The page says it is the charity Rome would have wanted: "We have chosen the Wish Upon A Star Foundation as it is a charity close to Kerry's heart. Wherever she was, in whichever country, she always had time for children, whether it was sitting for a cuddle or playing football."