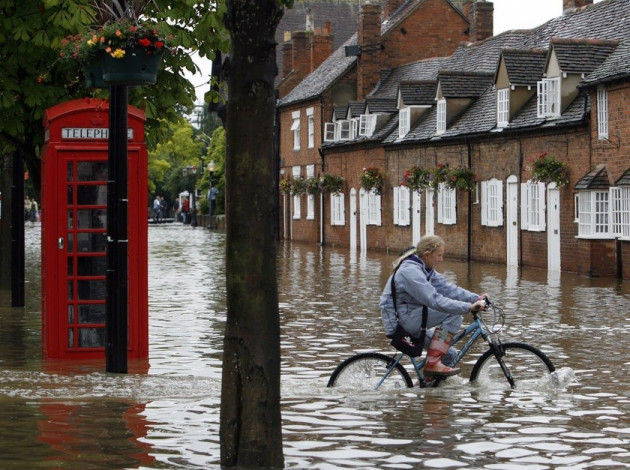 A 30-year-old woman has been killed by a falling tree branch at London's Kew Gardens, while a mother and her baby are dead after high winds caused a car crash in Norfolk.
The news comes as Britain braces itself for a further bout of extreme weather, with flood warnings in place across the country and further gale-force winds expected.
The Kew Gardens tragedy occurred when a large branch was dislodged by winds of 30mph, and fell on a woman visiting the park with friends.
The woman, from New Zealand, received sustained attention from rescue workers and members of the public, but she was pronounced dead at the scene.
Visitor Guy Barker, one of those who attempted to revive the woman, told the London Evening Standard:
"We were walking back to the car park towards the Brentford Gate when I heard what sounded like the crackle of gunshot. I turned round and saw something crash down directly in front of me, about 50 metres away."
Barker rushed to help the victim, but to no avail.
"I got her in the recovery position and another man who had been with her started giving her CPR. The ambulance control centre was giving us instructions over the phone.
"We kept going for a very long time, you keep on hoping but there were no signs of life."
Kew Gardens, one of the London's most popular visitor attractions, issued a short statement conveying its "deepest sympathy" to the victim's family and friends.
The Norfolk victims died when their car left the road near the village of Crimplesham, and collided with a tree during a burst of gale-force wind.
The victims, believed to be from eastern Europe, were travelling in a BMW when their vehicle veered off the road.
A man, also thought to be from eastern Europe, is receiving treatment at Addenbrooke's Hospital. He is thought to be in a critical condition.
Extreme
The extreme weather which has engulfed Britain over the past 24 hours shows no sign of abating, with a month's worth of rain expected in just a single day across Scotland, northern England and the South West.
Almost 90 flood warnings have been issued across the UK, and forecasters are predicting gale-force winds of 70mph.
Environment Agency director of operations, David Jordan, urged Britons everywhere to "sign up to flood warnings, keep a close eye on local weather forecasts and be prepared for the possibility of flooding.
"We also ask that people stay safe, by staying away from swollen rivers and not attempting to drive through floodwater."
To find out the forecast in your area, go to http://www.metoffice.gov.uk/