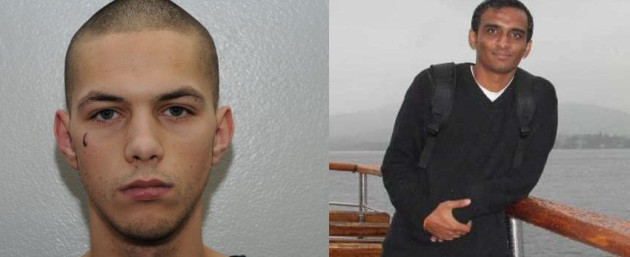 A self-styled "Psycho" has been found guilty of murdering an Indian student in an unprovoked attack on Boxing Day.
Kiaran Stapleton, 21, was found guilty of murdering Anuj Bidve by shooting the 23-year old student at point-blank range in the Ordsall area of Salford.
The court heard that Bidve was walking with a group of other Indian students when they were approached by Stapleton and his friend Ryan Holden in the early hours of Boxing Day.
Stapleton asked for the time and pulled out a gun, firing at Bidve.
Crazed
Stapleton stashed the murder weapon at Holden's grandmother's house, showered at his mother's home and dumped his clothes in the bin at his sister's property in an attempt to evade detection, the court heard.
The jury was also told that the assailant, who was on bail for a road rage offence at the time of the murder, was "laughing or smirking" when he left the scene, and even booked into a hotel overlooking the crime scene just hours after the offence.
In the days after the murder, Stapleton visited a local tattoo parlour to get a "teardrop" - a tattoo worn by some murderers to indicate that they have killed someone.
Pyschiatrist Dr Adrian West revealed in court that Stapleton had told him he selected Bidve from the group because he had "the biggest head", and said the victim "should have got a taxi" instead of walking through Ordsall.
Although Stapleton pleaded guilty to manslaughter, he referred to himself as 'Psycho' rather than 'Kieran' in his initial appearance before magistrates.
He will be sentenced on 27 July.
Bidve's parents, Subhash and Yogini, were in court to hear the jury return their verdict after 90 minutes of deliberations at the end of the four-week trial.
Mr Bidve said: "Our son was the kindest and most genuine person on this earth. He knew the difference between right and wrong and lived his life the right way. Kiaran Stapleton is the complete opposite, yet he is the one who is still alive and our son is dead."
Nazir Afzal, prosecuting, said: "Anuj Bidve's murder was a terrible crime. It is all the more tragic because it was completely senseless.
"Kiaran Stapleton shot Anuj, an innocent and defenceless man, at close range without warning or provocation.
"It was a cowardly murder, and [Stapleton's] reaction afterwards in trying to cover his tracks, hide from police and evade justice was also cowardly.
"The prosecution case has always been that Kiaran Stapleton knew exactly what he was doing at the time of the shooting and in the days afterwards. All the evidence supported that, and for that reason we refused to accept his plea to manslaughter and pursued a trial for murder.
Det Chief Supt Mary Doyle, who led the investigation, said: "There was absolutely nothing remarkable about Stapleton's history and nothing that would ever have suggested he would commit such a cold-blooded random killing.
"There is no evidence that Anuj was targeted because of his race. No racist comments were made and there appears to be no motivation other than tragically that Anuj and his friends were in the wrong place at the wrong time.
"He had a gun in his pocket and he used it on the first person he came across. This was a cold-blooded, motiveless killing for which he has shown no remorse and only Stapleton knows why he committed such an horrific act that night."