Four French journalists held hostage in Syria by militants thought to be linked to the Islamic State of Iraq and the Levant (ISIS) have been speaking of their delight at regaining their freedom after 10 months in captivity.
The journalists - Nicolas Henin, Edouard Elias, Pierre Torres and Didier Francois – were found by Turkish troops in Sanliurfa province, hands tied and blindfolded. According to a news agency they men had been taken to the border by an unknown group. At first the soldiers thought they were smugglers and took them to a police station before realising they were speaking French.
In Akcakale, a small town close to the Syrian border, Didier Francois, 53, spoke on camera briefly about the men's long ordeal.
Sporting a long beard and looking relatively well, he said: "We are very happy to be free. We thank the Turkish authorities because they really help us."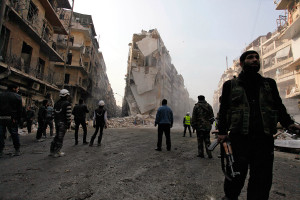 Laughing, Francois added: "It's very nice to see the sky, to be able to walk, to be able to speak freely. I am very happy."
Experienced journalist Francois and photographer Elias had been travelling to Aleppo to report on the Syrian civil war when captured by the feared ISIS militants in early June 2013. Later in June 2013 Henin and Torres were captured close to Raqqa.
Syria is one of the most dangerous places in the world for journalists. Around 30 are thought to still be in captivity and more than 60 have died since the civil war began in 2011, including the renowned Sunday Times correspondent Marie Colvin in 2012 along with French photojournalist Rémi Ochlik. Last week three Lebanese journalists were shot dead in Al-Maaloula, south of Damascus.
French President Francois Hollande said he had "learned with great relief this morning of the liberation of the four French journalists".
All four of the journalists are said to be in good health, he said, and would soon be going home: "I share the joy of the families of our compatriots who have endured the fear of this trying time."
Two other French citizens are still being held captive in the Sahel region of Africa, said Hollande, promising the "relentless mobilisation of the state's forces to obtain their liberation".