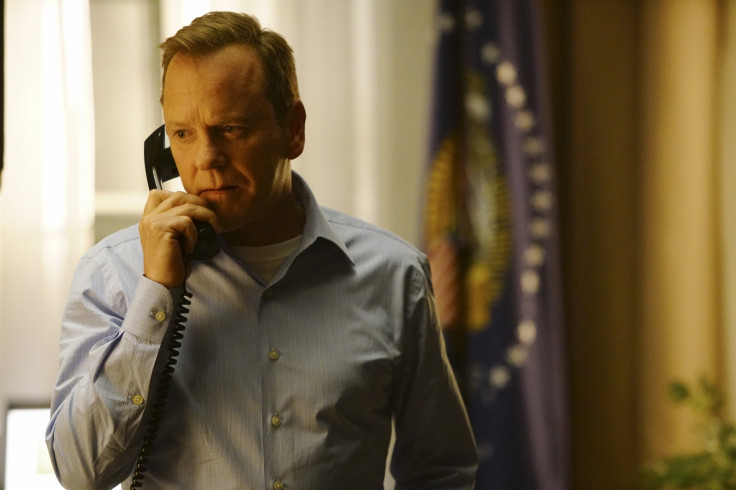 With the presidential elections as a backdrop, ABC has decided on an opportune time to premiere their latest political drama Designated Survivor. Kiefer Sutherland plays Tom Kirkman, the Secretary of Housing and Urban Development at the White House. His position is unimportant enough that he can skip attending the State of the Union address with the rest of the top officials.
It turns out, his choice to stay at the office in his jeans and hoodie saved his life. The show kicks off with a massive attack that ends up killing all the top members of the government including the president and his second in command.
Which means Kirkman is the survivor with the right designation to step in and take his seat at the Oval Office desk.
Audiences are bound to draw comparisons between reel and real life, as Hillary Clinton and Donald Trump compete for the same position.
"Well, I don't think, even if we tried, we could tell a crazier political [story] than the one that's going on right now," executive producer David Guggenheim told TVGuide. "But in terms of parallels, as you see with Trump, there clearly is a want for candidates who are outsiders."
Kirkman may not have the same plans as Trump but he is as unprepared for the major role thrust on him. "Kiefer's character isn't a political operative," Guggenheim explained. "He isn't someone who knows how to be political. He never campaigned. He never sought the presidency. He came into office with his idealism intact and pure. And I do think it's important to the success of the character and the show to explore that idea — what if one of us was in the White House? An ordinary person with no political aspirations who uses common sense to solve complex issues and isn't burdened by the political system — because a) they're outside it and b) it doesn't really exist anymore in the world of our show."
The show also features Natascha McElhone as Kirkman's wife Alex, who is suddenly forced to help her husband and their two children deal with the change of life.
Designated Survivor premieres on Wednesday, 21 September, on ABC at 10/9c. Watch the show live online on the network's official website.