Campaigners have called on the Home Office to ban anti-Ahmadiyya group Khatme Nubuwwat (KN), following the brutal murder of Ahmadi shopkeeper Asad Shah in Glasgow.
From its UK headquarters in Forest Gate, East London, Khatme Nubuwwat (KN) brands followers of the pacifist Ahmadiyya Muslim movement as 'apostates', or those who have abandoned their religion. It has also been alleged that KN has a base at Stockwell Mosque, in South London. Its branches in countries around the world allegedly disseminate a steady stream of sermons, leaflets and booklets calling for Ahmadis to be ostracised by their fellow Muslims, and for the execution of those who refuse to repent.
Akber Choudhry, a spokesman for the organisation, has told IBTimes UK that the claims are a "vicious campaign to malign our organisation" that aims "to counter the propaganda of the Ahmadiyya Qadiani [a pejorative term for the Ahmadiyya] religion, and their proselytisation among Muslim youth".
Last week, IBTimes UK exclusively reported that leaflets calling for Ahmadis to be killed had been distributed in several locations in London in recent years, including university campuses. The leaflets are undersigned by a KN branch in Stockwell Green, and were allegedly distributed outside the organisation's office in Forest Gate. The leaflets can be downloaded at the endofprophethood.com website, with the Khatme Nubuwwat Academy, Forest Gate's website linked under 'related sites'.
Khatme Nubuwwat Academy denies any connection with the production or distribution of the leaflets. The Khatme Nubuwwat office in Stockwell green also denied any connection with the leaflets.
On 7 April, Tanveer Ahmed confessed to killing Shah and released a statement through his lawyers suggesting Shah had been spreading false views of Islam. Campaigners claim that the time has come for authorities to act and stamp out anti-Ahmadiyya hate speech allegedly spread by KN.
"Our position on this group is that it is extremely aggressively anti-Ahmadiyya to the point where it promotes violence, and I think my view and the view of Tell Mama would fall within the Home Office brackets to ban," Fiyaz Mughal, director of anti-hate crime group Tell Mama, told IBTimes UK.
In 2010, a Khatme Nubuwwat-affiliated Islamic television station was punished by Ofcom after broadcasting sermons in which Ahmadiyya were branded "liable for death". Hate speech leaflets were also distributed in several locations in London the same year, including Tooting, Streatham and Kingston, and preachers called for Ahmadi businesses to be boycotted. However, the Crown Prosecution Service declined to bring criminal charges against the group.
The decision was criticised by Lord Avebury, former vice chairman of the government's Parliamentary Human Rights Group, who said the decision showed Britain's laws against inciting religious hatred were "not effective".
A persecuted minority?
Numerous Ahmadis told IBTimes UK of continuing ostracisation and harassment, with children rejected by their Muslim peers at schools, Ahmadi students barred from taking part in joint events on the Muslim faith on university campuses, and hate speech continuing to be distributed.
Safad Ahmed, a London-based activist, was motivated to start an online petition that has attracted more than 2,000 signatures when Ahmadi acquaintances were harassed. She wants authorities to investigate Khatme Nubuwwat with a view to banning it.
"They have been able to get away with it with impunity for such a long time, they just don't think it is going to be anything people are going to remark on. That is the issue. These hate leaflets were reported to the police previously but no action was taken," she told IBTimes UK.
"It is an important issue now because the treatment of not just Ahmadis but reformists or anyone who is not a certain type of political Islamist Muslim within Muslim communities. The Islamists start on the minorities, and people who say 'that is not fair' or 'that is not right' and then it progresses."
Akber Choudhry, a spokesman for Khatme Nubuwwat, told IBTimes UK "These calls are just propaganda that raises its head every once in a while."
The leaflets espouse the "ultra-orthodox view that we do not share, nevertheless urge people to NOT take the theological law into their own hands," said Choudhry.
"We would like any violators of existing laws to be prosecuted to the fullest extent of the law. However, the government should not, and we believe will not, take arbitrary decisions just based on the echo chamber of media, parliament members, and the Ahmadiyya PR machine.
He said the organisation did believe Ahmadis ought to be executed: "We do not propose, encourage or condone any violence by any person against any other person in any state. Part of our shared humanity and civilization is the founding principle of the state: that violence or punishment is the sole prerogative of the state, and citizens of an established state give up the right to take the law into their own hands. Anything else would be anarchy.
"We unequivocally condemn the murder of the poor and kind shopkeeper, Asad Shah. He was killed by a lone fanatic. Choudhry claimed that Shah was not murdered because he was an Ahmadi, but "claimed to be a Prophet himself".
A spokesman for the Khatme Nubuwwat Academy in Forest Gate who did not want to be named denied any connection with the Aalami Majllse Khatem Nubuwwat in Stockwell Green, whose name and address appears on the leaflets.
Founded in British controlled India in the late 19th century, the Ahmadis take their name from founder Mirza Ghulam Ahmad who died in 1908. Identifying itself as a Muslim movement and following the teachings of the Koran, it believes the long-awaited mahdi, or Muslim saviour, came in the form of a man named Ahmad.
However, elements of mainstream Islam and orthodox Muslims in countries such as Pakistan reject the notion of Ahmad as mahdi, and Ahmadis in general, regarding the group as heretics and subjecting them to persecution in Asian countries.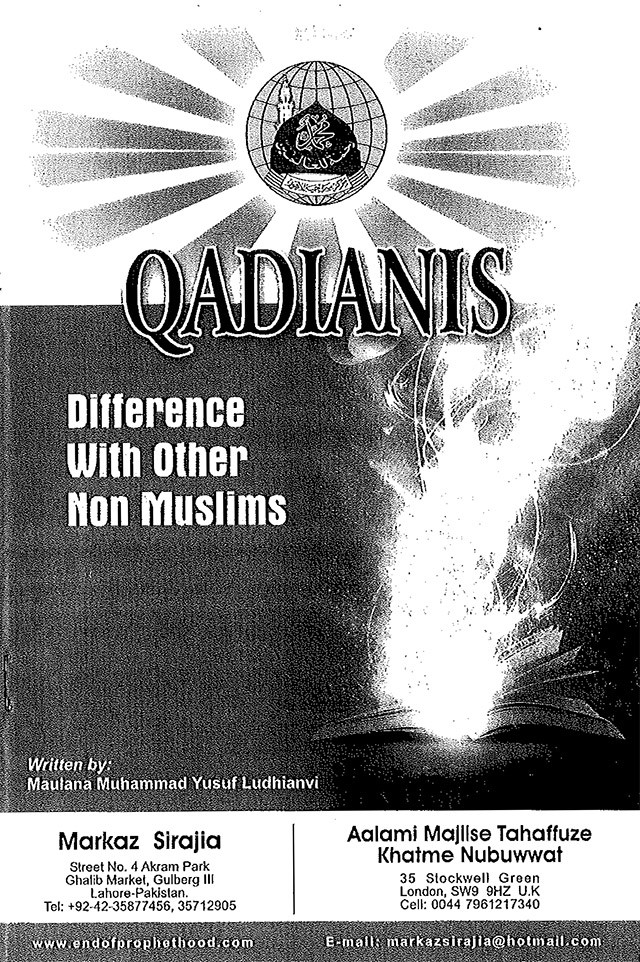 UK police have been accused of dismissing the issue as a community dispute about rival interpretations of Islam. "A lot of people don't get what the difference is, the sectarianism is something not a lot of people get in this country," said Ahmed.The Metropolitan Police has not responded to requests for comment from IBTimes UK.
With increasing concern about the growth of violent radicalisation in the UK, campaigners argue that it is urgent to take action against groups advocating violence against those whose interpretation of Islam diverges from that of the hardliners.
"We are in a different scenario to the one we were in six years ago, and the scenario then was we didn't have Isis around. So given the Isis view on that kind of Takfiri situation – who's a Muslim who's not a Muslim - this is a different context. These leaflets need to be looked at in the context of the day," said Mughal.
Ahmed described Khatme Nubuwwat as being on the "same continuum" as violent jihadist groups such as Islamic State (Isis).
Home Office spokesman Michael Charouneau said: "We do not routinely comment on whether an organisation is or is not under consideration for proscription," adding that the list of proscribed groups is under "constant review".