You would think Piers Morgan has already met his fair share of killer women in the industries he's carved a successful career in. Having worked alongside the feisty Susanna Reid on Good Morning Britain and holding his own during his Britain's Got Talent stint with Amanda Holden, it could be said that the former newspaper editor wasn't quite ready to be faced with some of the world's most dangerous living females. But as viewers will discover, seeing the usually sanctimonious Morgan quiver in his boots is more than a little amusing.
Arguably his best journalistic endeavour in recent times, the two-part documentary, Killer Women with Piers Morgan, is a chilling insight into the minds of slaying senoritas. Renowned for prompting celebrities of all stature burst into tears on his Life Stories ITV series, Morgan's interviewing skills will be put to the test as he squirms at the likes of 4ft 1 Erin Caffey, a blonde-haired, blue-eyed ingénue who masterminded the slaughter of her entire family when she was 16 years old.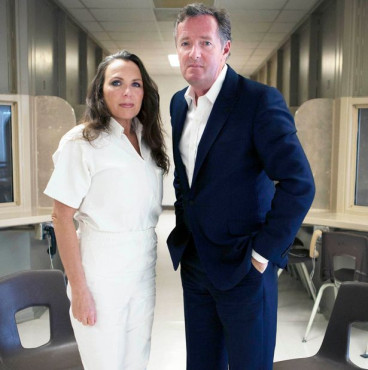 Now, at 24, the speciously angelic Caffey will not be eligible for parole until she is 59 and is serving two life sentences since being found guilty of orchestrating the murders of her mother and two brothers, whilst her forgiving father, Terry Caffey, miraculously survived. Writing in his Mail On Sunday column, Morgan confessed: "Erin Caffey is the most dangerous woman I have met in my entire life."
Morgan seems equally petrified on meeting Texas beauty queen Rhonda Glover, who planned the murder of her long-term oil baron lover and shot him dead at point-blank range.
Continuing his journey to the dark side, he meets Amanda Lewis, a Florida mother convicted of deliberately drowning her seven-year-old daughter Adrianna in the swimming pool at her home. Though the crime's only witness, Amanda's six-year-old son AJ, shocked America with his devastating in-court evidence, Morgan is ambivalent about her innocence. He admitted: "I still don't know if she did it or not. Viewers, I suspect, will be equally torn."
Discussing Morgan at his most vulnerable, the series director Stuart Cabb stated: "This is Piers as we have not seen him before...but he is so well suited to this genre. Years of honing his interview technique really paid off in some compelling confrontations with some of America's most infamous female killers."
Watch Killer Women with Piers Morgan on ITV at 9pm tonight (11 May).