Ri Jong-chol, a North Korean suspect arrested in connection with the death of Kim Jong-un's estranged half-brother, said his detention was a "plot" to damage the reputation of his country. He also accused Malaysian investigators of using coercion to try to extract a confession from him.
Ri was released on Friday (3 March) after Malaysian law enforcement agencies said they did not have sufficient evidence to charge him.
"If I just accept everything, they will make arrangements for a good life in Malaysia. I realized that this is a conspiracy, plot, to try to damage the status and honor of the republic," Reuters cited Ri as saying.
He addressed the media from outside the North Korean embassy in Beijing early on Saturday. He was en route to Pyongyang after Malaysia deported him.
Ri also accused Malaysian authorities of presenting him with false evidence. He said police showed him pictures of his family in detention.
The 46-year-old was arrested on 18 February — four days after the high profile assassination of Kim Jong-nam — on suspicion of being involved in the murder. He was the only North Korean who was arrested in connection with the death.
But Ri said he was not at the airport at the time of Kim's death. He added that he did not know anything about the allegation that a car was discovered near the airport that was registered in his name.
"It was in my car garage. Malaysian police accepted this too," BBC cited Ri as saying.
Ri, who is thought to be an expert in chemistry, told investigators that he was working in Malaysia "importing ingredients needed for soap".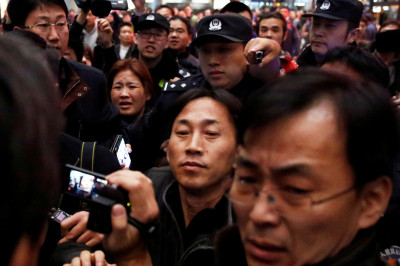 Meanwhile, Malaysia rejected allegations that it violated UN imposed sanctions on North Korea after reports emerged that Pyongyang-linked firms were clandestinely dealing in arms in the country.
"Malaysia categorically rejects any such insinuation," the Southeast Asian country's foreign ministry said on Saturday, 4 March.
The murder of Kim Jong-nam on 13 February at Kuala Lumpur airport is said to have soured ties between Malaysia and North Korea, which had maintained friendly relations for several decades.
Malaysia said it would continue its investigation and is seeking to question four other North Koreans, including a diplomat, who have all reportedly fled the country already.