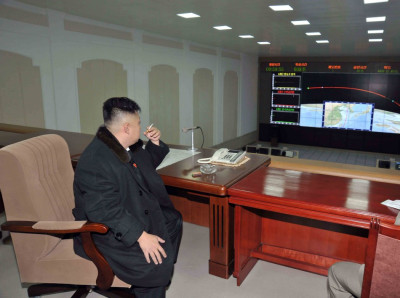 Pictures of North Korean leader Kim Jong-un's celebrations following the successful launch of the Unha-3 rocket on Wednesday have been released.
Following the launch, a mass rally was held in Pyongyang, North Korea, attended by both soldiers and civilians.
Tens of thousands turned up to Kim Il-sung Square to celebrate the launch, with a military band tooting horns and banging drums.
To his people, the launch made Kim Jong-un appear powerful and determined in the face of his foreign adversaries.
Banners paid homage to the North Korea leader, his late father Kim Jong-il, and grandfather Kim Il-sung - the founder of the country in 1948.
Kim Jong-un, believed to be 29, smoked as he watched the launch from the General Satellite Control and Command Centre.
He celebrated with scientists and technicians after the launch, which took place early on Wednesday.
"North Korean officials will long be touting Kim Jong-un as a gutsy leader," said Kim Byung-ro, a North Korea specialist at Seoul National University in South Korea.
Speaking at the rally, Pyongyang citizen Jong Sun Hui said: "It makes me happy that our satellite is flying in space.
"The satellite launch demonstrated our strong power and the might of our science and technology once again."
The UN banned North Korea from ballistic missile tests after the country carried out nuclear tests in 2006 and 2009. Foreign secretary William Hague said this week's launch was "provocative".
Despite concerns, experts suggest that North Korea is years from being able to develop reliable missiles capable of hitting long-range targets.