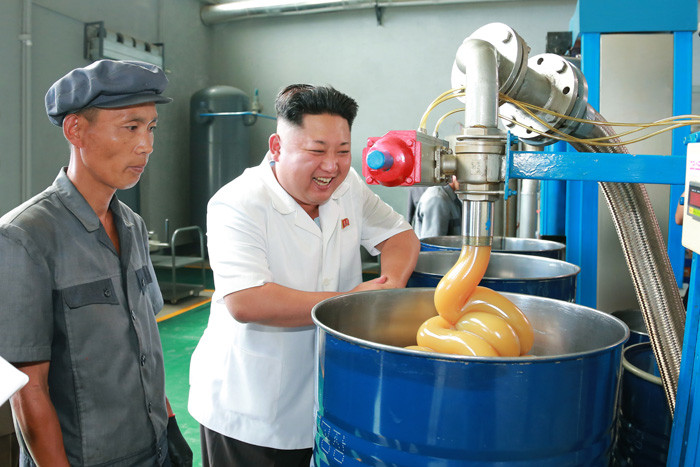 North Korean leader Kim Jong-un, who visited a lubricant factory, imparted field guidance to the workers and urged them to step up their efforts to compete in the international market.
Impressed by the facility's automation process, the North Korean leader heaped praise on his late father Kim Jong-Il.
"Visiting the factory established thanks to the undying patriotic feats of leader Kim Jong-Il, the one handed down to the younger generation as results of the hardships experienced by himself, I feel very sorry for failing to show him this modern splendid factory even once. This factory is a posthumous one," Kim said with "deep emotion," reported the state-run Korean Central News Agency (KCNA).
The report did not mention when the reclusive nation's leader visited the factory or the plant's precise location.
Reports from South Korea suggest the factory is in North Korea's western port city of Nampho and run by Korea Sungri Joint Venture.
The KCNA report added: "Noting that this factory alone clearly shows how many seeds Kim Jong Il sowed for the building of a rich and powerful country, he said in an excited tone that everybody should never forget the devoted efforts made by Kim Jong Il for the country and its people for decades."
"He looked round the analysis room, general production control room, lubricant work team, grease work team and other places of the factory."