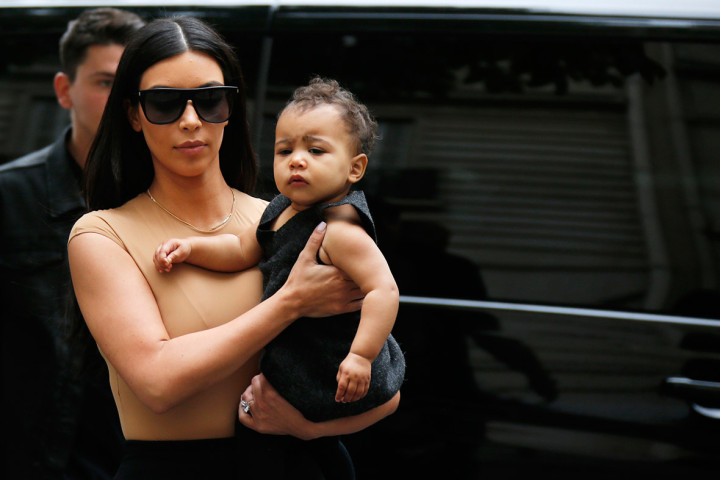 Kim Kardashian has described her horror following an incident in which her baby became the target of a racial slur.
The reality star was travelling in the first class cabin on a plane with her daughter North, when the incident occurred.
Recounting the episode to her sister Khloe on their TV show, Keeping Up with the Kardashians, the 33-year-old said: "I fell asleep, I woke up to this woman screaming, 'Kanye West's baby! She's with a black guy, and that baby is black! And you need to shut that black baby up!'
"I would've punched her in her face," interjected Khloe.
"No, we were on a plane — I wanted to," said Kim. "I would've," said Khloe. "I would say, hashtag, "I only like black c***!" That's what I would say!"
Kim who married rapper Kanye West in Italy last month, felt compelled to write a blog about the incident, in which she expressed her concerns about raising a mixed-race child.
She wrote: "I never knew how much being a mom would change me. To be honest, before I had North, I never really gave racism or discrimination a lot of thought. It is obviously a topic that Kanye is passionate about, but I guess it was easier for me to believe that it was someone else's battle.
"But recently, I've read and personally experienced some incidents that have sickened me and made me take notice. I realize that racism and discrimination are still alive, and just as hateful and deadly as they ever have been," she said.
"I feel a responsibility as a mother, a public figure, a human being, to do what I can to make sure that not only my child, but all children, don't have to grow up in a world where they are judged by the colour of their skin, or their gender, or their sexual orientation. I want my daughter growing up in a world where love for one another is the most important thing."
Despite her heartfelt sentiments, the reality star faced criticism for saying she had not given "racism or discrimination a lot of thought" until it affected her.
Kim was also subjected to an offensive racist stereotype at the Vienna Ball in February when she was confronted by an Austrian man, Chris Stephan, with his face 'blacked up' and calling himself Kanye.
Kim is seen on camera saying: "I can't believe there is this guy in full blackface. I just am so confused. I don't get why he or anyone else would find this funny. This is supposed to be a really nice upscale event. How did this guy get in? Is this like a sick joke?"
Stephan issued an apology on his Facebook page for the offensive stunt, claiming he is not racist.