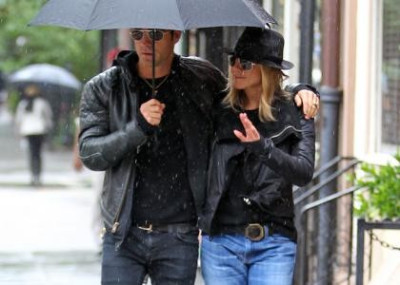 They have just went public with their new romance but already Kim Kardashian and Kanye West appear to be showing the world just how much they complement each other as a couple.
The 31-year-old reality star and her 34-year-old rapper beau recently stepped out in coordinated outfits usually associated with more long-term couples.
Keen to play the role of supportive boyfriend west accompanied the whole Kardashian clan to the opening of Kourtney's boyfriend Scott Disick's restaurant.
Showing that their relationship was on the right course, the pair engaged in heavy PDA and arrived together holding hands for the first time since the news of their romance broke.
Kardashian opted for a black tight-fitting pencil skirt and matching halterneck top with frill detailing at the bib.
She teamed the elegant ensemble with black satin and perspex pointy Louboutin stilettos, a black weave clutch and two gold cuffs on each of wrists.
While the all Of The Lights star choose a black tuxedo-style suit with a simple grey T-shirt worn underneath and black shoes for the occasion.
Well, they do say that couples who spend enough time together start to pick up each other's habits, quirks, and even dress sense. So maybe Kim and Kanye are already a match made in heaven.
IBTimes UK checks out other celeb couples who are so in synch that they think alike even in the style department.