Kim Kardashian and Kanye West have named their newborn daughter Chicago West.
The reality TV star made an understated announcement on her app on Friday (19 January) simply posting "Chicago West."
Sharing the baby's date and weight at birth, the mother-of-three later retweeted a post which explains how to pronounce the shortened version of Chicago's name.
It read: "And to everyone who thinks it's literally pronounced as CHI. No. It's "Shy".
Fans of the entrepreneur have been speculating about the name of the baby ever since it was revealed on Keeping Up With The Kardashians that the 37-year-old had decided to have a third child via surrogate after suffering fertility problems.
Chicago was born on Monday (15 January) weighing 7lbs 6oz and Kim who was in the delivery room was reportedly the first person to have skin-to-skin contact with her, The Sun reports.
Kim announced the happy news of the baby's arrival in an emotional post on her website which read: "She's here! We're so in love."
She continued: "Kanye and I are happy to announce the arrival of our healthy, beautiful baby girl.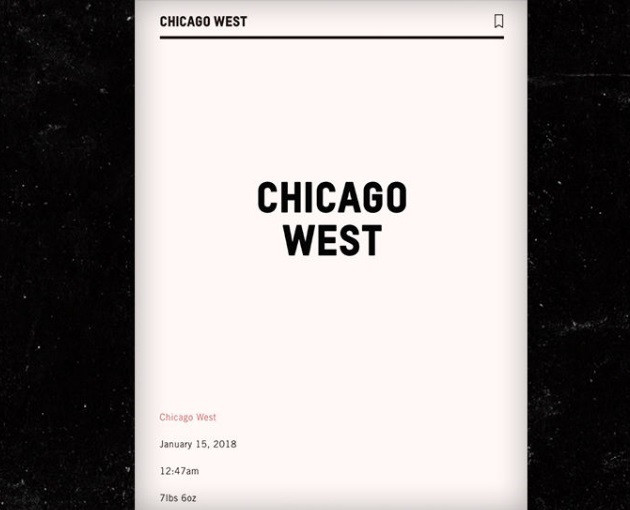 "We are incredibly grateful to our surrogate who made our dreams come true with the greatest gift one could give and to our wonderful doctors and nurses for their special care.
"North and Saint are especially thrilled to welcome their baby sister."
The celebrity couple are renowned for their unusual choice of names for their offspring, who already include 4-year-old North, and 2-year-old Saint.
The newborn has apparently been named in honour of her father Kanye West's hometown.
Following the announcement "Chicago West" was quickly trending on social media, prompting a mixed reaction as fans gave their approval of the name while others expressed their incredulity at the choice of moniker.
The name spawned a litany of hilarious memes while others proferred hilarious alternatives, expressing disappointment that the newest addition to the Kardashian clan had not been named "Wild West."
The family have however, been quick to express their delight at the choice of name as they welcomed the new arrival. Khloe Kardashian, who is pregnant with her first child, tweeted: "I loooove the name. Hey Chi (Shy)."