People have reacted angrily to the government's decision to fly flags at half-mast to mark the death of Saudi Arabia's King Abdullah, with some on social media describing the move as paying tribute to a "tyrant".
Abdullah, who ruled the country since 2005, died aged 90 after suffering from a lung infection.
His half-brother, 79-year-old Salman bin Abdulaziz, has been confirmed as the new king of Saudi Arabia.
Following Abdullah's death, leaders and heads of states from around paid their respect to the king, with David Cameron saying he was "deeply saddened" by the news.
Cameron added: "He will be remembered for his long years of service to the Kingdom, for his commitment to peace and for strengthening understanding between faiths.
"My thoughts and prayers are with the Saudi Royal Family and the people of the Kingdom at this sad time."
As a mark of respect, Westminster Abbey, Buckingham Palace and the British Foreign Office have all lowered their flags as half-mast – a decision that has angered many.
During his lifetime, Abdullah's regime was heavily criticised for showing a "disregard" for human rights, including banning women from driving, hosting public beheadings and – more recently – sentencing a blogger to 1,000 lashes for advocating free speech.
A spokesperson for the Department for Culture, Media and Sport, said: "It is with great regret that we learn of the death of the King Abdullah bin Abdulaziz, King of Saudi Arabia.
"It is requested that all flags be half-masted from 8am today until 8pm this evening.
"Any other UK national flags flown alongside the Union Flag when it is at half-mast should also be at half-mast. If a flag of a foreign nation is normally flown on the same stand as the Union Flag, it should be removed.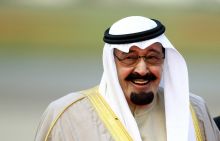 "Local authorities are not bound by this request but may wish to follow it for guidance. Devolved administrations are responsible for issuing instructions for the flying of the Union Flag on buildings in their estate and others as necessary."
Westminster said not flying flags at half-mast following the death of a sovereign state leader would be an "aggressive comment" by the UK.
A spokesperson added: "We always fly a flag. It is at half-mast because the government has decided to fly their flags at half-mast today.
"For us not to fly at half-mast would be to make a noticeably aggressive comment on the death of the king of a country to which the UK is allied in the fight against Islamic terrorism.
"Nor would it have done anything to support the desperately oppressed Christian communities of the Middle East for whom we pray constantly and publicly."