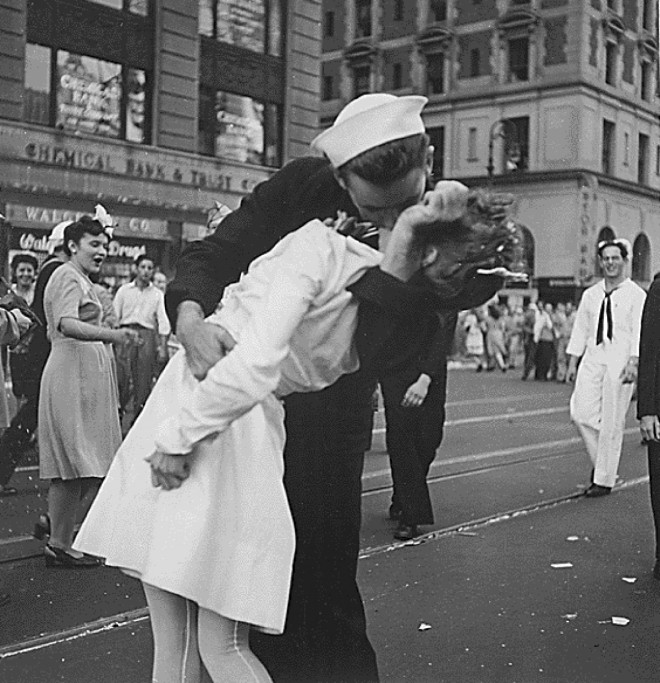 A man kissing a woman in New York's Times Square in the iconic World War II-era photo taken by a Life magazine photographer Alfred Eisenstaedt has died.
The man identified as Glenn Edward McDuffie, a US navy sailor, died in a Texas nursing home, his daughter Glenda Bell told the Associated Press. He was 86.
In the photo, McDuffie leans over a nurse in his arms to kiss her. The photo was taken on 14 August, 1945 after the surrender of Japan was announced in New York.
Widely known as the "kissing sailor", McDuffie always claimed to be the sailor seen in the famed photograph.
However, he was identified as the kissing man only in 2007 by Houston Police Department forensic artist Lois Gibson.
Kissing sailor didn't know the woman
Bell said that her father would often recall that kissing incident and the excitement in Times Square that followed the announcement of the end of WWII.
McDuffie, then 18, didn't know the woman he kissed. According to AP, he was changing trains in New York to visit his girlfriend in Brooklyn when the announcement was made and the kiss happened in an impromptu moment.
"I was so happy. I ran out in the street," he had told the AP.
"And then I saw that nurse. She saw me hollering and with a big smile on my face. ... I just went right to her and kissed her."
"We never spoke a word. Afterward, I just went on the subway across the street and went to Brooklyn," he said.
The sailor once said that he knew he was being photographed while he was kissing the nurse and that he ensured the moment was well captured.
"I heard someone running and stopping right in front of us. I raised my head up, and it was a photographer. I tried to get my hand out of the way so I wouldn't block her face, and I kissed her just long enough for him to take the picture," McDuffie told the Houston Chronicle in 2007.
McDuffie will be buried at the Dallas-Fort Worth National Cemetery. He is survived by his daughter and two grandchildren.