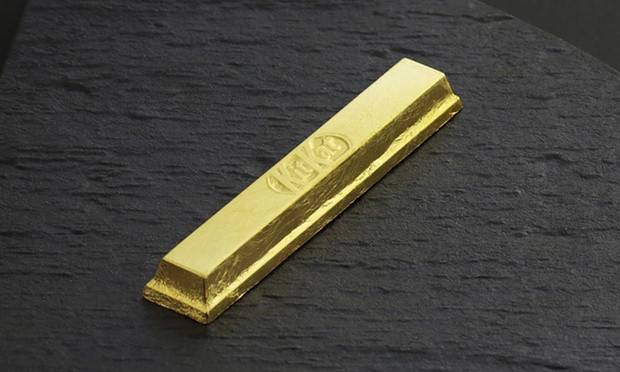 Food manufacturer Nestle is launching a gold-wrapped Kit Kat chocolate bar for the Japanese market. It hopes to target the Japanese holiday shoppers with a taste for fine snacking.
The single finger Kit Kat chocolate bar is wrapped with an extreme thin layer of gold, handcrafted by an artisan in the Ishikawa Prefecture in central Japan. Only a limited supply of 500 chocolate bars will be offered for sale from 29 December at eight department stores.
The 'gold' bars will be sold for 2,016 yen (£11.17, €15.23, $16), according to Nestle. The company's Japan executive manager Alex Villela said: "When you present a Kit Kat wrapped with gold, you're actually making the very best wish for the person through the year."
This is not the first time Nestle has introduced something different for the Japanese market. Since launching in 1973, Kit Kat has been offered in about 30 different flavours, ranging from sweet potato, green tea, soy sauce, special chilli and even the famous wasabi.
Japan's "omiyage" culture of offering regional gifts back for family and friends, including work colleagues, after trips away has been a boon for Nestle in introducing more exotic flavours there.
It offers special varieties that are only available in certain regions of Japan, using ingredients and flavours linked to the local area. For instance, KitKat Kobe Pudding, has a creamy custard pudding flavour with a hint of citrus and is only available in Kobe while the wasabi Kit Kat is only sold in Shizuoka.