Police in India have opened a case of culpable homicide against the building contractor IVRCL which is responsible for building a flyover that collapsed in Kolkata killing 23 people and injuring scores more.
As rescue workers called off their search last night (31 March) and declared there was no chance of finding further survivors, it emerged the construction of the overpass had been dogged by delays and inefficiency.
A total of 80 were hospitalised because of injuries sustained in the deadly crush, which at one point had trapped more than 150. In the initial aftermath of the collapse, a senior IVRCL manager shrugged off the disaster, calling it an act of god.
The flyover had been under construction since 2009 and had repeatedly missed deadlines for completion, with many saying that a lack of inspections and the use of inadequate materials had led to its failure.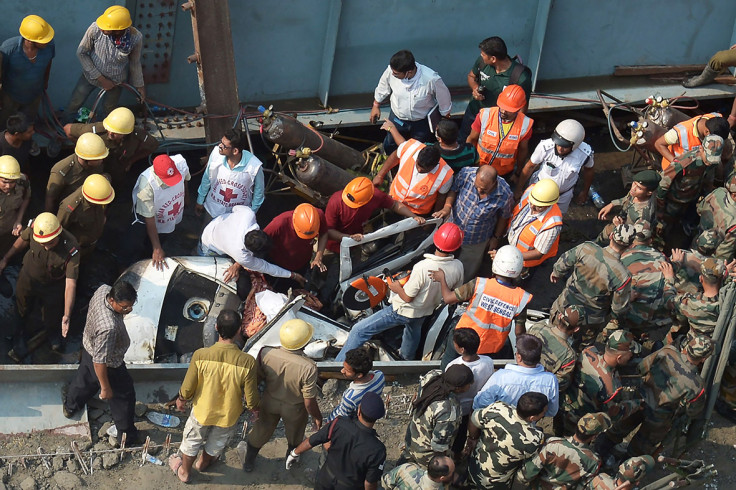 Chief Minister Mamata Banerjee, who is seeking re-election next month in the state of West Bengal, said those responsible would be held accountable and she blamed the previous state government, Reuters reported. The catastrophe has led to calls for investigations of possible corruption.
The offices of IVRCL have been sealed and police are due to question bosses at the company's headquarters in the southern city of Hyderabad.
Rescue workers dug with their hands, and removed concrete rubble and steel with small cranes and saws, pulling more than 90 people from the rubble. Witnesses told the Associated Press the collapse sounded like an explosion.
"I heard an explosion, a solid one," resident Rabindra Kumar Gupta told the news agency. "My apartment shook. The whole building shook. When I looked outside, there was a lot of smoke."
It is believed the five years of delays may have caused corrosion to older elements of the flyover, according to rescuers who examined the wreckage. Locals said that concrete was poured on the stretch the night before its collapse.