Kos refugees: 1,000 locked overnight in stadium with no food and 'sprayed with fire extinguishers'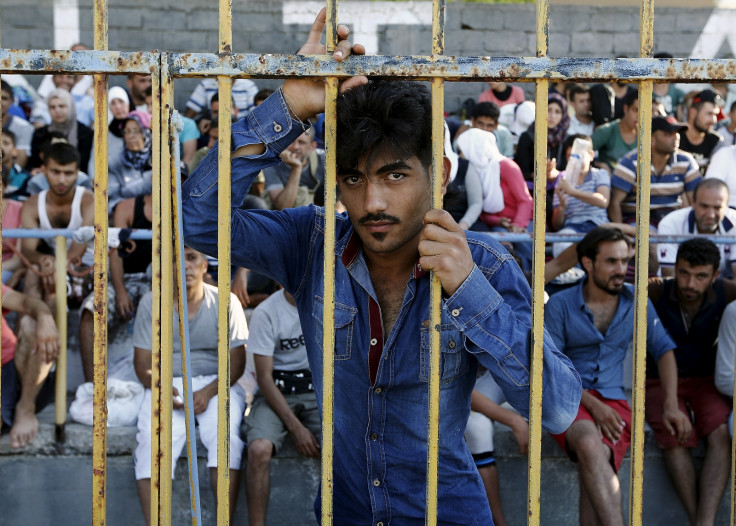 Hundreds of hungry and desperate migrants who were locked up in a stadium in Kos overnight on 11/12 August have been sprayed with fire extinguishers by Greek authorities as the situation on the Greek island goes further out of control.
The Doctors Without Borders (MSF) medical charity reported that about 1,000 asylum seekers in the stadium, including families with babies and toddlers, were forced to queue to be registered in temperatures of 32c with no shade or basic services. Many of them, mostly Syrians and Afghans, fainted due to the heat. One even had epileptic seizure.
"This morning there are still about 1,000 people locked up by the police and no registration going on at all until 9.30am," Sophie-Jane Madden, MSF spokeswoman, told IBTimes UK.
Scuffles erupted amid the people lining up in the heat and the situation "quickly got out of hand, with the police unable to ensure a proper crowd management and dispersing the people by spraying them with fire extinguishers", MSF said in a press release.
Police used a sound bomb to maintain order, the Guardian reports.
"What was previously a situation of state inaction is now one of state abuse, with police using increasing heavy-handed force against these vulnerable people," Brice de le Vingne, MSF director of operations, said.
The charity said it will provide medical consultations outside the stadium and put up shadow netting inside the facility to create shade.
The development came after Greek police sprayed migrants with fire extinguishers and hit them with batons in an attempt to control angry crowds waiting to be registered. Kos mayor Giorgos Kiritsis told the Greek ANA news agency there "was a risk of bloodshed if the situation degenerates" further.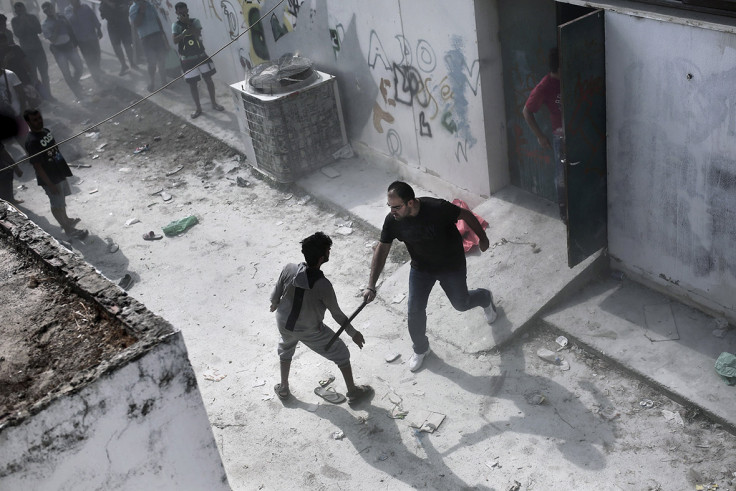 MSF has accused Greek authorities of not providing the migrants with basic services such as food, water or shelter. Thousands of people have been forced to put up tents in public parks and squares in Kos town, or to sleep outside with no access to latrines or showers. No reception place has opened in the island to welcome and assist the migrants.
The charity said that authorities' inaction has become a "state of abuse" in the island.
In the first half of 2015, 124,000 migrants arrived in Greece by sea, according to the UNHCR refugee council. The figure is an increase of 750% on the same period in 2014. In July alone, there were 50,000 arrivals, about 70% from Syria. Most landed on Lesbos, Chios, Kos, Samos and Leros.
The numbers have overwhelmed Greek police and coastguard officials on the islands, who also have to cope with lack of funds and staff. Greek authorities are often unable to keep up with the new arrivals and process them fast enough.
Refugees from Syria are theoretically processed faster but bottlenecks have stranded them for weeks.
Kos and other Greek islands in the eastern Aegean Sea could face an unprecedented influx of refugees from Turkey in the next few months, with as many as 200,000 people, mostly Syrians and Afghans, ready to make their way to Europe.
Aid workers in Lesbos told IBTimes UK that many sources indicate that hundreds of thousands of desperate asylum seekers will probably attempt to cross the Aegean in August and September, before the bad weather arrives.
© Copyright IBTimes 2023. All rights reserved.