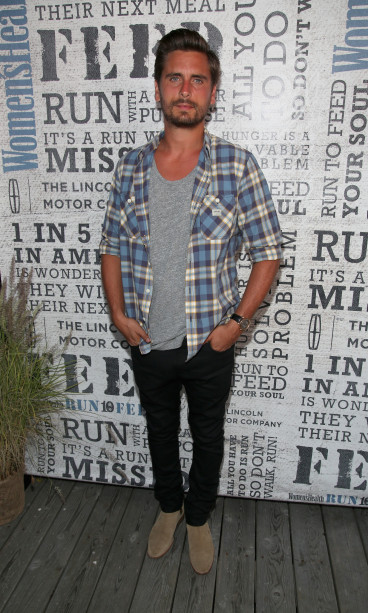 After sharing a particularly critical Instagram post about himself this week, it has been revealed that Scott Disick may be seeking professional help following his break-up with long-term partner Kourtney Kardashian.
According to US Weekly, the father-of-three checked himself into a rehab facility in Florida on Sunday 5 July, after indulging in a heavy weekend during his time in France.
However, the 32-year-old spent just a few hours in the centre, which is said to be located close to where he is rumoured to be staying with ex-girlfriend Chloe Bartoli, whom he was spotted getting cosy with on the French Riviera for 4 July weekend.
He and Kardashian's split was announced by E! News on the 6 July, stating that the pair had officially called off their nine-year relationship during that same weekend.
On Wednesday, Disick took to his personal Instagram account to post multiple images of his daughter Penelope to markf her third birthday. He captioned the image with the arguably sad message: "1 of the only things I'm proud off about myself. Happybdayp" (sic) which led many people to worry about his state of mind.
According to TMZ, friends of Kardashian have voiced their concerns about Disick not taking the break-up seriously and that the only way he could potentially resolve the situation with the mother of his children is to carry out a proper stint in rehab.
They believed that the reality star hosting a party tonight (10 July) at 10ak in Las Vegas would be a bad idea. However, Disick has since said he is not going to the event, which would have marked his first public appearance since the former couple's split went public.
Talking to People on Thursday 9 July, a source suggested that Disick isn't taking the split too seriously, because he's optimistic that he and Kardashian might possibly get back together.
The source said: "Scott says that he's doing fine. He says that he is not upset that the relationship is over, because 'over' doesn't always mean 'over.' He has left open the door to getting back with her.
"But he's open to the idea that she may not forgive him and it may really be over for good, and he's ok with that, too. Right now his feeling is, whatever happens, happens."
Although, things appear to be more finite in camp Kardashian, as TMZ also reported that the eldest Kardashian had packed up his belongings and shipped them to his home in Beverly Hills. A claim that a source reiterated by adding, "Kourtney organized the removal of the lord's belongings, mostly his clothing".
Read more: http://www.dailymail.co.uk/tvshowbiz/article-3155055/Scott-Disick-makes-visit-rehab-leaves-just-hours-later-friends-say-isn-t-taking-split-Kourtney-Kardashian-seriously.html#ixzz3fTo0HO47
Follow us: @MailOnline on Twitter | DailyMail on Facebook