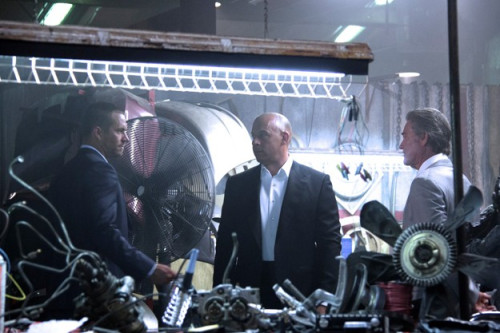 Kurt Russell has been talking about the recent death of Paul Walker, when filming of Fast & Furious 7 might pick up again and where the shoot may be heading.
He was speaking to entertainment website IGN while on the promotional trail for his latest film The Art of the Steal.
Production on Fast & Furious 7 was halted after the tragic death of star Paul Walker in a car crash in California in November 2013. Filming is expected to pick up again soon, following re-writes which will give Walker's character a happy ending.
Regarding filming of Fast & Furious 7, Russell said: "I've been told April, maybe May, maybe Dubai, maybe Atlanta, maybe LA."
IGN also asked the Hollywood legend why he chose to be part of the Fast & Furious series over something like Sylvester Stallone's The Expendables.
Russell said: "There's something about Fast & Furious. It has that mystery to me - and it's for a funny audience, you know? It's for a 15 to 30. I think now you can take that from 15 to 45, and I think that's what's interesting about that.
"I like the way Vin [Diesel] talks about it. It's not a series, it's a saga. I think that Paul dying is a part of that saga."
On the death of his colleague Walker, Russell said: "He was a great guy. He was a terrific person. How can you not like that guy? Everything about him was cool.
"Yeah, and he was just coming into a part of his life I think where he was beginning to say, 'Well, I've kinda got my life going great. What is it artistically I wanna do? Now I'm comfortable to say, Let me tear it apart and find out. Let me tear this engine apart and find out what's there.' Boom. Lights out. Terrible. Life!"
You can read the interview in full here.
Fast & Furious 7 is set for release on 10 April, 2015.