Kylie Jenner has proved herself to be a successful businesswoman with her Lip Kit beauty range selling out in just seconds. The reality star launched the products at the family's Dash store in Los Angeles on 30 November with her parents Kris Jenner and Caitlyn Jenner in attendance.
The Lip Kit collection consists of matte lip liners and liquid lipsticks in three neutral colours – Candy K, Dolce K and Pure Brown – which retail for $29 (£19) each. On the brand's Instagram account, Jenner, 18, has enlisted her close friends Jordyn Woods and Chantel Jeffries to model the colours. However, less than 60 seconds after the Lip Kit went on sale at 9am EST, the products were out of stock and the website crashed leaving many of Jenner's fans disappointed at not being able to purchase the collection.
The Keeping Up With The Kardashians star did apologise on Twitter and promised there would be more stock available before Christmas. Jenner told her 12.6 million followers: "I'm so sad they sold out so fast. Don't be upset! This isn't exclusive. There is more to come & still a chance to buy before Christmas!"
She had previously posted: "Wow. Been dreaming of this day for 2 years now. This was a long process but an amazing one! Visiting the factories and sitting in the chem room creating the perfect colors and formulas for you guys! This is all me and I put my everything into these lip kits. I hope you guys love them as much as I do. Definitely more to come."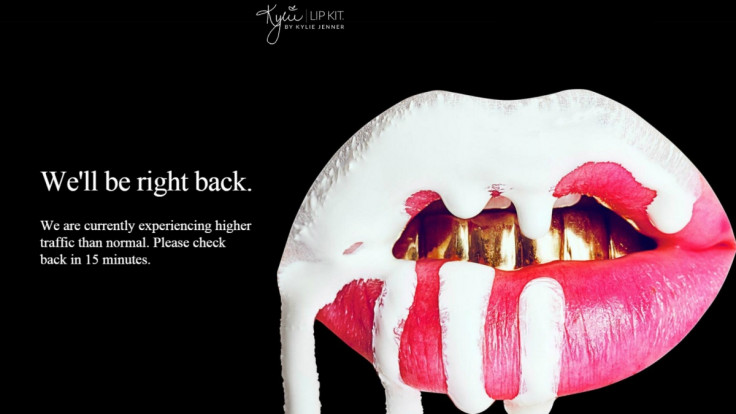 A message on the website currently reads: "We'll be right back. We are currently experiencing higher traffic than normal. Please check back in 15 minutes." Jenner was pictured arriving at the Dash store to a large group of fans with her parents and mother Kris Jenner's boyfriend Corey Gamble there for support. Jenner has been working on the line for two years but told Refinery 29 that it has always been a dream to launch her own lip collection, explaining: "So, I feel there has been so much attention on my lips, like, my whole life...
"And I wanted to take matters into my own hands and create my own and really give my fans and followers something, because I feel like everyone has been looking for the Kylie Jenner lip colour, what exactly I use, and this is like my dream colour."
She added of her involvement in creating the products: "It's all me and I literally went to the factories and sat with the chemists. There wasn't really a struggle, it was just the waiting process [that was hard] and figuring out what exactly people would like and what would be on trend a few months later, but I just followed my heart I was sitting there."
In 2014, Jenner was accused of having plastic surgery to enhance her lips but in May 2015, the teen admitted to having temporary lip fillers.