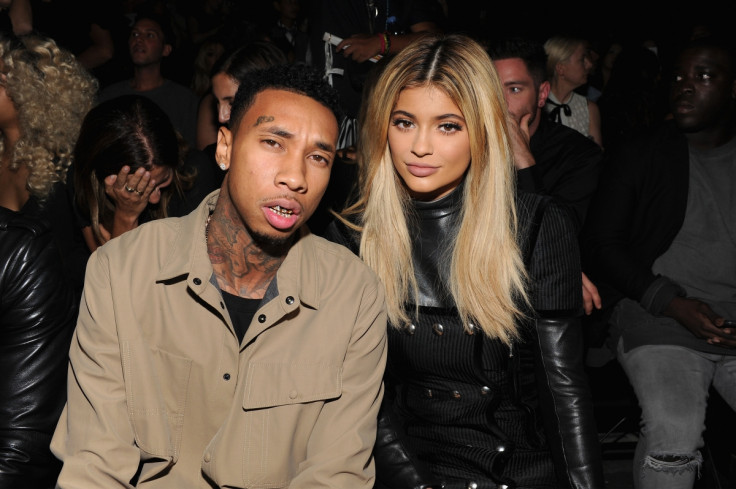 Rapper Tyga and Kylie Jenner's relationship has been through some ups and downs in the past, especially after the duo had reportedly parted ways. But of late, the pair has been rekindling their romance as they indulged in some major PDA at a fashion event. Amid their blooming romance, it seems like the rapper is against any sort of interference from the Kardashian-Jenner clan in his relationship with Kylie.
"Kim, and all the Kardashians, really, for then most part have been kind to Tyga," a source told Hollywood Life adding, "But that said, he would really appreciate if they would stay the f**k out of he and Kylie's relationship. Tyga and Kylie are one."
The source continued to shed light on the couple's relationship and said, "Things are really heating up between them and their passion is just as electric as Kim and Kanye's. The more the Kardashian gang is in Kylie's ear, throwing salt on Tyga, the more it's going to push Kylie away."
This shouldn't come as a surprise to fans as reports previously suggested that elder sister Kim Kardashian was not much in favour of Kylie thinking about nuptials at such a young age with the Rack City singer.
"Kim is advising Kylie to pump the brakes on an engagement, and urging her not to follow in her footsteps when it comes to getting married at a young age," a source told the gossip website on September 12.
"Kim is proud of everything Kylie has accomplished in life, and has been warning her that she can continue to have a wonderful life and a healthy relationship without being engaged or married to Tyga," the source added.
While, Kylie has hinted about an upcoming wedding with Tyga, her sister and mother Kris Jenner are reportedly insisting on a prenuptial agreement. According to a report, the 19-year-old cosmetics maven has left Kris "steaming mad about the entire situation".
After an on-again and off-again relationship with the 26-year-old rapper, Kylie's family is advising for the prenup, but the KUWTK star is reportedly "not backing down".