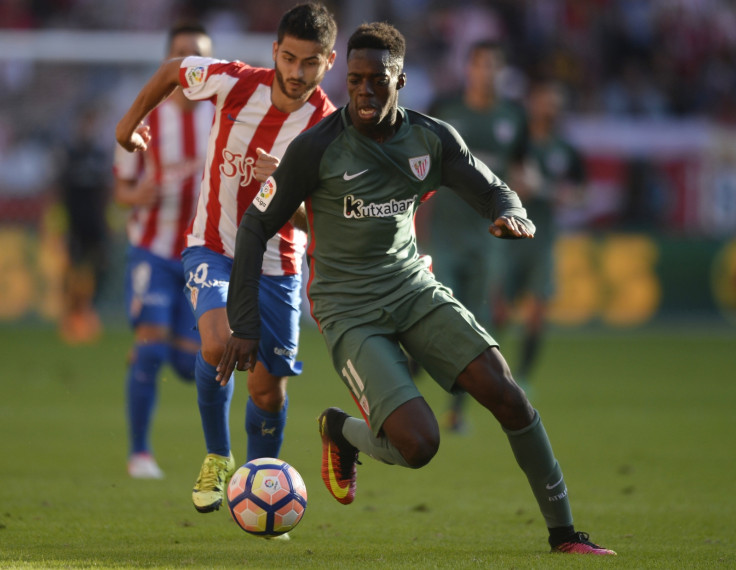 La Liga authorities have sent a report to the Anti-Violence Commission denouncing racist chants directed at Iñaki Williams during Sporting Gijon's 2-1 victory over Athletic Club Bilbao. The commission will now decide whether the incident was severe enough to warrant closing stands at the Molinon or fining the Asturian side.
Referee Clos Gomez was forced to stop the opening game of the season early in the first half after sections of the crowd made racist chants at the 22-year-old Spaniard. The official wrote in his report: "At 22 minutes the game was stopped for one minute due to one stand of the stadium imitating monkey sounds directed at player number 11, Inaki Williams Arthur."
Sporting Gijon made a public announcement during the game urging fans to stop chants, and released a follow-up statement after the game condemning the incident.
"Real Sporting Gijon condemn any act of racism, xenophobia or violent behaviour in sport, obeying scrupulously with the sport's laws and regulations," the club said, as well as posting a video with captain Ivan Cuellar and four of their foreign players asking the fans to stop the racism.
La Liga has welcomed the club's condemnation of what is undoubtedly an embarrassing episode for Spanish football, but has made an official statement regarding their referral of the incident to the Anti-Violence Commission.
"Under the rules of the Royal Spanish Football Federation, La Liga will send a letter to the Anti-violence Commission denouncing the chanting of songs that incite violence, racism, xenophobia and intolerance in sport, these being actions contrary to the legal system foreseen in the RFEF Disciplinary Code. This same letter of complaint will be transferred to the Competition Committee," La Liga has confirmed.