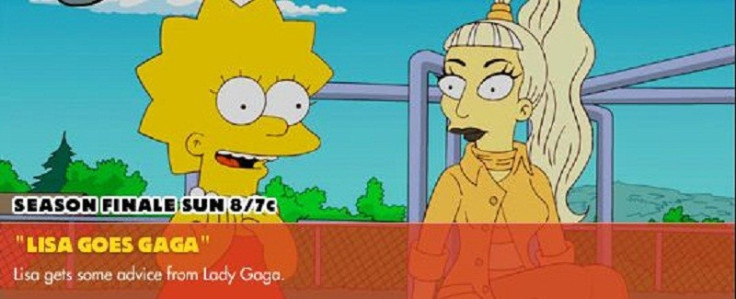 Eccentric and popular singer Lady Gaga is set to make her small screen debut on hugely acclaimed American animated show The Simpsons, as part of the finale for the series' 23rd season. Mother Monster will visit Springfield to bring joy and happiness to its citizens... and especially Lisa Simpson.
"I come to Springfield on a train with huge shoes on it and I come make the people of Springfield happy for a moment," she said of the episode's plot line, "Along the way, I run into Lisa. I decide it's my mission to pull Lisa out of her slump."
The show's official Web site has this summary: "With Gaga's assistance, Lisa and the entire town of Springfield realize that being yourself is better than being like anyone else."
The singer, who is known for truly bizarre costumes and hair styles, will be seen in animated versions of some of her more popular costumes, including the Meat Dress and the Pyro Bra; the producers have even introduced a Hummingbird outfit and there will be, it is understood, as many as 18 costume changes for the singer.
"IM SOOO EXCITED FOR THE SIMPSONS. "Lisa Goes Gaga" episode. They did such an amazing job. I hope you like my voice-over acting debut!" Gaga tweeted.
"She was really excited about the whole thing," Al Jean, one of the show's legendary writer-producers told MTV Style, "After she signed on to do it, she came in to record dialogue twice, and we showed her a rough cut the second time. She seemed thrilled."
The show's creator, Matt Groening, is equally happy about the 26 year old singer's appearance and said he thought it was the best it could possibly be.
"She was so good that we ruined many takes by laughing out loud," Groening was quoted as saying in ET Online.
The show has featured a number of other celebrities in its long history, including actresses Anne Hathaway and Natalie Portman and singers Katy Perry and Sting.
Check out the trailer of Lisa Goes Gaga