Divers searching for migrants missing after a fishing boat sank off the coast of Lampedusa have recovered 49 more bodies.
The Italian government had suspended the search operation for two days due to poor weather.
However, divers have now found more bodies. They were loaded from boats on to trucks and taken to an airport that has become a makeshift morgue for the victims.
The death toll from the incident is now at least 160, but more than 350 are feared dead. Around 200 more people are missing, with many presumed trapped in the wreck around 50m below the surface.
Police official Leonardo Ricci said the operation would continue as long as there is light and the sea stays calm.
Integration Minister Cecile Kyenge said: "There are no words in front of the dead. They are difficult moments that make us face our responsibilities.
"We cannot deal with this tragedy alone, but together with Europe. We must give answers to those who flee, need protection, and come here for help."
Most of the 155 survivors are now at a refugee centre in Lampedusa. Kyenge said the conditions at the centre are "shameful" due to overcrowding.
Lampedusa, Italy's southernmost island, is a common destination for migrants coming from Africa and the Middle East. Tens of thousands arrive on the island seeking refuge every year.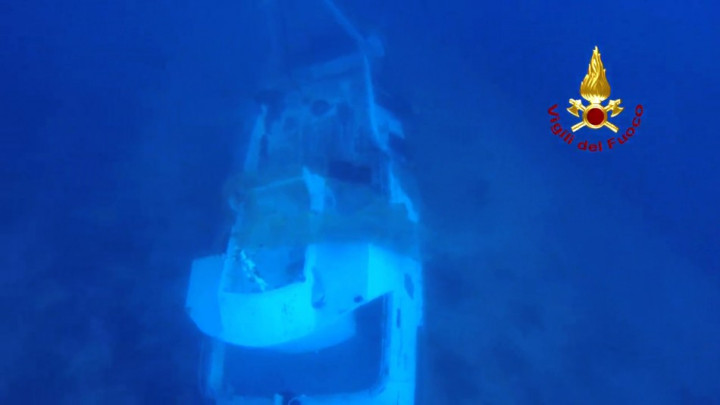 A Dutch lawmaker has called for an investigation into survivors' reports that a boat had circled them but did not offer assistance. There is no evidence to suggest the boat knew the fishing vessel was in distress.
The boat sank earlier this week after a fire was started to draw attention to the vessel. The migrants reportedly panicked and moved to one side of the boat, which capsized it.
Many people were trapped in the hull while others were flung into the sea, where they waited three hours to be rescued.
A ceremony was held for the dead at the airport. Laura Boldrini, the speaker from Italy's lower house, said: "When the asylum-seekers started to arrive, they started crying, all together, like a song.
"There were 150 people all together, crying, but in a very dignified way, and without asking anything of the authorities, not even to know who was in the coffins. It was such a lesson."