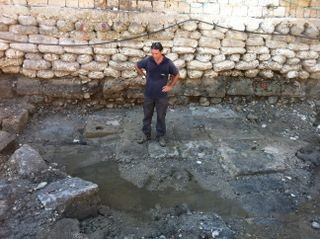 Archaeologists have uncovered the remains of a harbour which is believed to be the largest such structure in Israel and which operated in the Hellenistic period (third to second centuries BCE).
Traces of the harbour, specifically its installations, were discovered during excavations at the foot of the northern Israeli city of Acre's southern seawall. According to archaeologists, the harbour was an important part of the city at the time and could well have been the most important port in Israel.
"The harbour is considered the largest and most important in the country in the Hellenistic period. Among the finds there: large mooring stones that were incorporated in the quay, which were used to secure sailing vessels. This is probably a military harbour," the Israel Antiquities Authority (IAA) announced in a statement earlier this week.
Evidence indicating the possible existence of this dock was first found in 2009 when a section of pavement consisting of large flagstones was discovered underwater. The way in which the pavements were built suggested it could be the floor of a larger building. The recent findings would seem to confirm those beliefs and strongly indicate the structure is the remains of a quay, which occupied the site about 2300 years ago.
"Among the finds we've discovered now are large mooring stones that were incorporated in the quay and were used to secure sailing vessels that anchored in the harbour c. 2,300 years ago. This unique and important find finally provides an unequivocal answer to the question of whether we are dealing with port installations or the floor of a building," Kobi Sharvit, director of the Marine Archaeology Unit of the IAA, said.
Further investigation of the mooring stones and fragments of pottery vessels found at the site indicate that many of them came from islands in the Aegean Sea, including Knidos, Rhodes, Kos and others, as well as other port cities along the Mediterranean coast.
"For the first time, parts of the harbour are being discovered that are adjacent to the ancient shoreline and the Hellenistic city. Unfortunately, parts of the quay continue beneath the Ottoman city wall – parts that we will probably not be able to excavate in the future," Sharvit added.