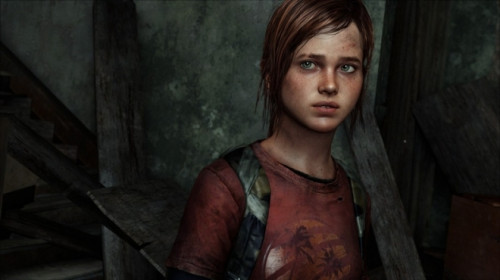 PlayStation 3 users can expect upcoming The Last of Us single-player DLC Left Behind to be "more fun", according to actress Ashley Johnson, who reprises her role as Ellie.
Set before the events of Naughty Dog's post-apocalyptic drama, Left Behind follows Ellie and her best friend Riley inside the military-run Boston quarantine zone where Ellie will later meet Joel in The Last of Us main story.
Discussing the tone of the game in an interview on PlayStation's blog, Johnson said: "It's definitely different. It's a little bit more "fun," because you have two teenage girls going through a mall. It's kind of like a post-pandemic version of two teenage girls hanging out. Definitely not a normal hangout! It's very different — a little more playful.
"There's a bit of everything in there. You're really getting a new sense of the environment. You'll engage in combat that seems familiar from the original campaign, but there are some new touches and nuances, too."
Earlier this year The Last of Us – a PlayStation 3 exclusive – topped the UK chart for six weeks and sold 3.4 million copies worldwide in just its first three weeks of release.
"You'll definitely see a more playful side to Ellie and get to know her a bit better," Johnson continued. "You're going to see a lot of different sides to the character that you definitely didn't see in The Last of Us. I'm excited for people to experience it."
In the main game Ellie mentions that she was bitten by one of the infected (and in turn found out she was immune) while with her friend Riley. It's an event Left Behind is almost certainly going to cover.
On working with actress Yaani King – who plays Riley - and the different side of Ellie we'll see in her friendship with the character, Johnson said: "It was interesting after working with Troy [Baker] and the Joel character for over two years, and then getting back on set and working with someone totally new.
"The relationship with Riley is vastly different to the one with Joel — firstly, they're best friends and secondly, they're both teenage girls. There's a playfulness and silliness that wasn't necessarily there with Joel. Some of the stuff that we captured for Left Behind is my favourite stuff that we've done on the whole project."
Finally she spoke of the impact the main game has had on her and her career. "The Last of Us is 100% my favourite thing I've ever worked on. You'd think working on something for two years would not be a fun thing to do, but I've been so blown away by the response.
"When we were working on it, I think we all knew we were working on something special. I just feel so fortunate that I got to be a part of it — even more so because of the response to Ellie and to what a strong female character she is."
Sony have yet to set a firm release for The Last of Us' Left Behind DLC.