Watch 'disturbing' video of racist tirade against Latino man at Reno airport
Video of the incident in which an alleged veteran uses racial epithets against the man has gone viral.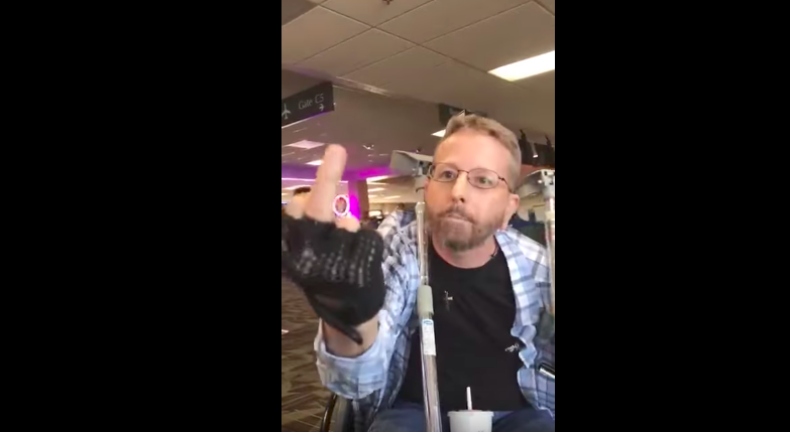 A video of a man making racial slurs against a fellow traveller in Reno, Nevada airport has gone viral.
The man, identified only as 'Mike', apparently became angry when he overheard the other man speaking with his Puerto Rican mother over the phone in Spanish.
The man can be seen yelling profanities and racial slurs, including "s**c" and "motherf****r," for nearly 10 minutes towards 44-year-old Hector Torres, who recorded the video.
"Learn how to f***ing speak English," he yells. "We live in America."
"But I'm speaking to my mother in Spanish because that's her language," Torres responds.
"I don't give a s**t, shut up!" the man spits back. "SHUT UP!"
Torres told BuzzFeed News that the incident occurred on Thursday (18 May) while he waited to board his Los Angeles-bound flight.
"I'm chatting away with my mom, quietly, not trying to have all kinds of volume at the airport," he said. "And I'm like, I hope it wasn't directed at me." Torres told BuzzFeed News that he tried to ignore the remarks, but the other man continued making them.
When the other man said, "Trump is going to fix this. He doesn't understand this is Trump's America now," Torres got off the phone.
Torres said he was surprised when he turned around to handle the situation and saw that the man was in a wheelchair. He added that due to the man's age and apparent injury—as well as a reference made by the man to having "fought for this country"—he assumed the man was a veteran.
"I was like, 'Dude are you serious?'" Torres said. "He said, 'Goddamn serious, you mother f*****g s**c, you oughta go back to your country."
Torres said he did not consider confronting the man physically and because he believe him to be a veteran. He can be heard attempting to appeal to the man and asking to "explain to me what I did to you one more time?"
"Talking that f*****g Spanish around here when everybody else is a f*****g English-speaking-American," the man replies.
Torres said he recorded the incident to ensure there was evidence for security or police. When security showed up, the man turned around and claimed Torres was "harassing" him.
Torres decided not to press charges against the man. Reno-Tahoe Airport Authority confirmed the incident and said no charges were filed. The man and his family "chose not to fly" on the same flight as Torres, the statement said.
"The Airport Authority is saddened to see this type of situation occur at our airport or any other airport for that matter," the statement said. "The video is certainly disturbing. However, it is important to keep in mind that there may have been contributing factors with the individual involved that are not for public consumption, but that may have resulted in him acting the way he did."