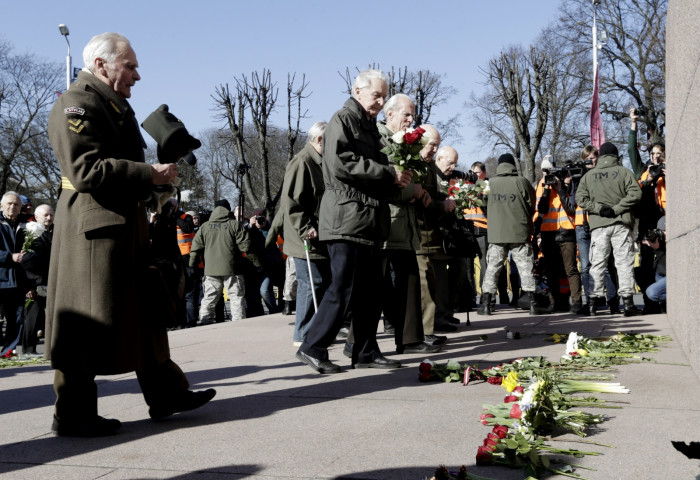 Up to 1,500 Latvians marched through Riga in a controversial march to commemorate those who fought alongside Nazi Germany during World War II as members of the Waffen SS Latvian Legion (Schutzstaffel unit), also known as the Legionnaires.
The marchers laid flowers, waved flags and sang traditional songs at the city's Freedom Monument as hundreds of police, many in riot gear, lined the route.
"I had never seen so much police," said one elderly woman marcher. "But I am glad that they are well dressed and that the state cares about us. Our enemy is very scared about the fact that we are not afraid."
Those attending the memorial said they were simply remembering young Latvians, mainly conscripts who fought and died to prevent the Soviet Union re-occupying the country and did not share the ideology of the Nazis.
The marchers were challenged by anti-fascists and Jewish groups, some of whom held aloft graphic images showing the victims of Nazi atrocities and who later ritually disinfected the streets to cleanse them of the "Nazi disease."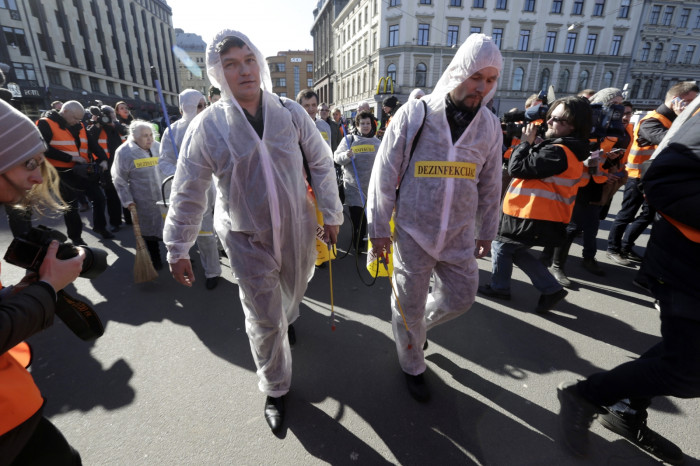 26-year-old protester Alexander Filey said: "The glorification of the Legion is synonymous to the glorification of Nazism."
The unofficial march has taken place on 16 March every year since 1998 but the government - which currently holds the EU Presidency - is concerned it may stoke up tensions between Latvians and the country's many ethnic Russians and do little to improve frosty relations with Russia itself.
After a number of ugly clashes between rival protesters in recent years, this year the government barred extreme right- and left-wing foreigners from travelling to Riga for the march and counter-demonstration.
Following a controversy last year when then-Minister for Environmental Protection and Regional Development, Einars Cilinskis was forced to resign after joining the march, Prime Minister Laimdota Straujuma told members of her government to stay away this year.
On its website the Latvian US embassy warned US nationals to take extra care.
"U.S. citizens are reminded that even demonstrations intended to be peaceful can turn confrontational and escalate into violence," said the statement.
"Review your personal security plans, remain aware of your surroundings, including local events, and monitor local news stations for updates. Maintain a high level of vigilance and take appropriate steps to enhance your personal security."