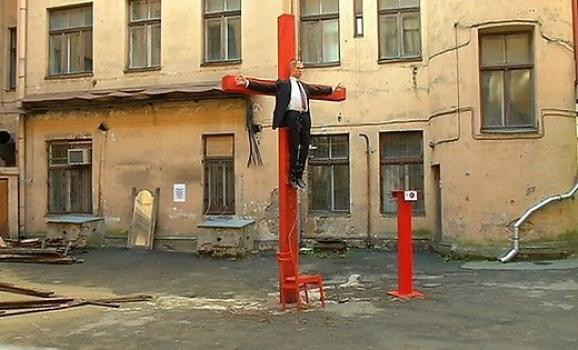 Authorities in Latvia have dismantled an effigy of Russian president Vladimir Putin being crucified after protests from the Russian embassy.
Spectators were invited to drive nails into the statue, wearing a crown of thorns erected as part of an art exhibition on a red cross outside the former headquarters of the KGB in Riga.
However, the Russian Embassy expressed "extreme indignation and disgust" when he effigy first appeared.
"We consider unacceptable the appearance of this kind of provocation 'arts' in the capital of the country currently taking over the presidency of the EU Council," the embassy told the Latvian Foreign Ministry on May 15.
Five men reportedly drove up to the exhibit, attacked it as well as two people attending it, and threatened them in Russian, the Baltic Times reported.
Latvian authorities though denied the effigy depicted the Russian leader.
A Latvian Foreign Office official told Baltkom Radio that the effigy does not depict any person either living or fictitious, and should be judged by art critics.
The artist has chosen to remain anonymous, but told Latvian media that the image depicted an acquaintance who is an Italian businessman.
The effigy appeared as part of an exhibition in the centre of Riga on Latvia's 20th century history.
The exhibit has generated huge controversy, with some artists taking part in the exhibition reportedly attacked, and pro-Russian group GVD-Baltiya planning a protest against the effigy on May 21.
In recent months, tensions between the Baltic states and Russia have escalated, with Russia reviving imperialist and Cold War rhetoric, and holding military drills on its western borders.