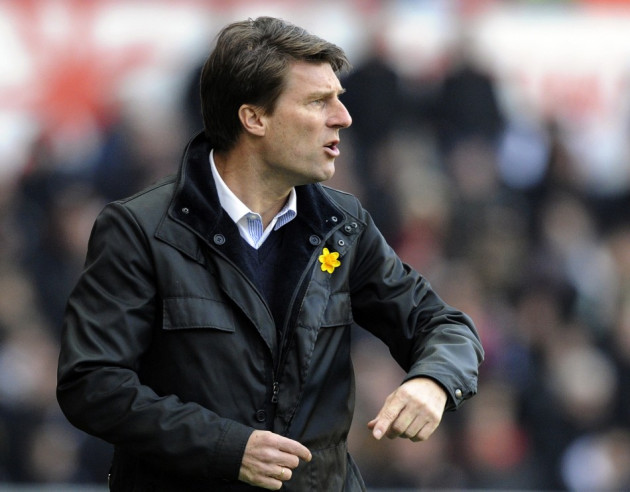 Swansea City manager Michael Laudrup has reaffirmed his commitment to the south Wales club but admits he received offers from "big clubs" during a summer in which he was linked with the vacant managerial roles at Chelsea and Real Madrid.
Laurdrup was reportedly on the brink of leaving The Swans after falling out with chairman Hew Jenkins regarding the club's summer transfer targets.
But the signing of six players in the transfer window, including Jonjo Shelvey from Liverpool, while Wilfried Bony is set to join from Vitesse Arnhem, suggests Laudrup has reached a resolution with the Swansea hierarchy.
Both Chelsea and Madrid were linked with moves for Laudrup this summer amid their respective searches for new managers and the Dane admits some tempting offers came his way after he guided Swansea into the top half of the Premier League and to the League Cup - the club's first ever major trophy.
"It depends what you mean by offers," Laudrup said. "Yes there were clubs - a couple of big ones as well - who wanted me but it never became anything more than that.
"As I said and confirmed many times, I wanted to stay and I told players the same when they asked me before they extended their contracts. I don't want to runaway from that.
"It's normal after a season which was good for everybody that there is a lot of interest and eyes on all of us, domestically and internationally.
"But it never went further than that and I didn't have to speak to anyone because I want to stay here."
Chelsea eventually appointed Jose Mourinho for a second spell in charge, while Madrid opted for Carlo Ancelotti to replace the Portuguese boss after he left Paris Saint Germain.
With the pair set to play in the Champions League next season, both Chelsea and Madrid would be have represented a return to top tier European football for the first time since 2008 during Laudrup's days with Real Mallorca.