Double Olympic champion Laura Trott has hailed Elinor Barker's impact on the women's pursuit team ahead of the World Track Championships in Minsk.
Barker, already a World Cup winner on debut in November in Glasgow, again deputises for Joanna Rowsell who continues training ahead of her first ever season on the road with Wiggle Honda.
Dani King, an Olympic, world and European team pursuit champion as well as world record holder alongside Trott, returns together with Barker as Great Britain seek to retain their title from Melbourne.
And Trott says Barker, 18, has settled in without hesitation.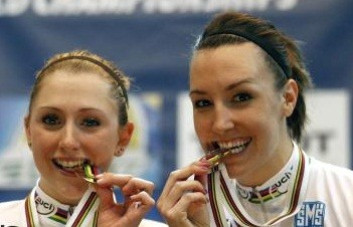 "She's stepped straight in which is amazing considering," Trott said. "Comparing to myself because I had to step into the team but they weren't Olympic champions so she's stepping into a world record Olympic team, she's doing absolutely amazing.
"She's so good and so consistent. You only have to tell her once, if she does something and you're like 'that's really strange', you only have to tell her once and the next effort she's moved on and she's improved and she's just getting better and better."
Victory in Glasgow over Australia worked as the ideal warm-up for Barker, the junior time trial champion, in King and Trott's first return to competition since the London 2012 Olympics.
Barker would be forgiven for feeling intimidated joining a team who are seeking a third successive team pursuit world title, but Trott admits after some early nerves the Welsh rider is flourishing.
"I think she did to start with, at Glasgow she was a bit of a nervous wreck but you would be she's only 18 it's her first competition with us, the first time away.
"She's grown up with Olympic development programme and you always go away with the same group of girls so she's had to go away with completely different people, share a room with completely different people so you would be daunted by that.
"Come race day she's fantastic so fingers crossed for worlds."
GB travel to the track world championships without Sir Chris Hoy and the retired Victoria Pendleton, with the likes of Vicky Williamson and Kian Emadi among those making their maiden world championships debut.
Despite being just 20, multiple Olympic, world and European titles makes Trott, who will also defend her world onmium title in Russia ahead of an assault on the women's road race season, among the more experienced riders heading to Minsk, along with boyfriend and triple Olympic champion Jason Kenny.
Expectations of the team have been diluted such is the deficit in experience from London 2012, but Trott says that with Rio three years away, excitement is brewing ahead of the break-through of British cycling's new breed.
"It's only a good thing isn't it?" Trott added.
"Chris Hoy and Victoria Pendleton were the people that I looked up to and now it's like, I don't want to say stepping into their shoes because I don't want to feel like they've gone, but it's nice that the next generation have already stepped up and we're already moving forward.
"Our team pursuit team has already changed. I'm only 20 but already that next crop is coming through. I just think that British cycling will just keep growing and growing."