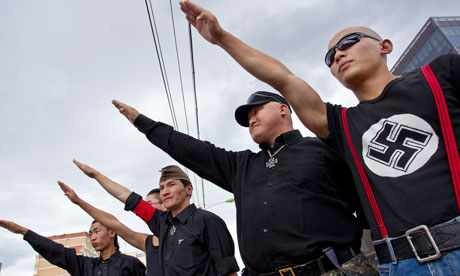 23-year-old Dimitri Bogotich, who has been sentenced to 69 months in prison for leading a violent racist group, said he joined the group while serving as a soldier in the Israel Defence Forces.
The gang leader was also sentenced to a 12-year suspended term after confessing to crimes including aggravated assault, publishing racist incitement and possessing racist material.
Bogotich joined the group while serving with the IDF between 2005 and 2007. The young men - who called themselves Patrol 36 - held drunken meetings where they discussed neo-Nazi ideology and photographed themselves giving the Nazi salute.
They targeted Asian and African migrant workers and gay and homeless people in aggressive assaults, and posted videos of the violence on YouTube and the neo-Nazi Web site Format 18. In one incident, the gang seized a drug addict in Tel Aviv and forced him to beg for forgiveness on his knees before viciously beating him.
The gang members sported tattoos popular with white supremacists, and a police search of their home yielded Nazi uniforms, portraits of Adolf Hitler, knives, guns and TNT.
The group was arrested in 2007, but ringleader Bogotich fled to Russia. He was extradited to Israel from Kyrgyzstan in January.
Their arrest provoked shock and outrage in the Jewish state, which was founded in the wake of the Nazi Holocaust in which millions of Jews were murdered.
According to the Israeli daily Haaretz, the gang all migrated to Israel under the Law of Return which allows anyone with at least one Jewish grandparent to become a citizen. None of them are thought to be practicing Jews.