Authorities in southern Spain evacuated nearly 1,500 people on Sunday (25 June) after a forest fire broke out near the famous Donana National Park at Moguer in Andalusia.
The fire reportedly broke out on Saturday night and was still not under control through Sunday. Emergency services said ten helicopters, seven planes and four water-bombing planes were deployed to deal with the blaze, according to AFP news agency.
"The fire has entered in the limits of the reserve, and that is where we are focusing our efforts," Jose Fiscal, deputy head of the regional environment protection authority, told Spanish television on Sunday. He added that the evacuated people were staying at a campsite.
Authorities are still trying to evaluate the scale and the cause of the blaze. Regional president Susana Diaz visited the affected area and said that "the human factor cannot be excluded" with regard to the cause of the fire.
Diaz also said that hot and dry weather with temperatures reaching 39 degrees Celsius, and shifting winds were making it difficult to control the fire. She added that more than 550 firefighters, soldiers and police officers supported by 21 air units were fighting the blaze.
Spanish interior minister Juan Ignacio Zoido said that they were "taking special measures, even though the wind is pushing the fire toward (the reserve) to keep the damage to a minimum".
The Donana nature reserve in the Andalusia province of Huelva, which is popular for its biodiversity and has earned a UNESCO world heritage site status in 1994, is visited by hundreds of tourists every day. It is home to a wide variety of endangered species like the Iberian lynx and the Spanish imperial eagle.
Ecologists fear that the raging fire could completely wipe out some of the nature reserves' prized species and terrain. The nature reserve protects more than 100,000 hectares of the landscape that is deemed of high ecological value.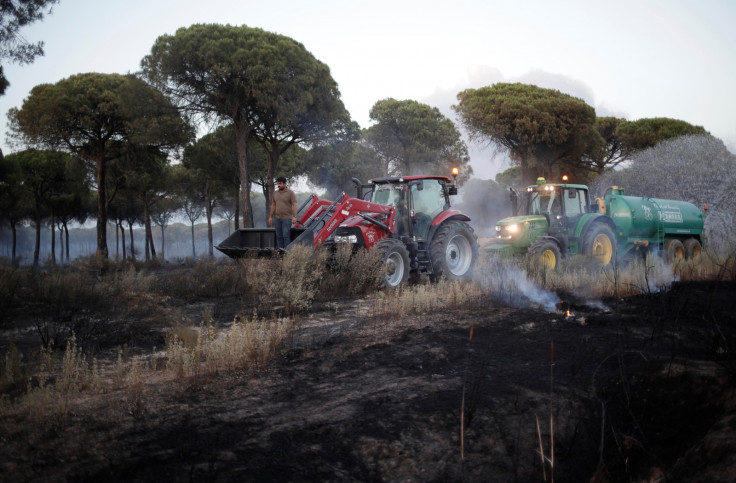 "We are worried because the impact could be huge," Carlos Molina, an ornithologist who works inside the reserve, told the Associated Press by phone.
"Donana is probably one of the most important areas for birds in all of Europe, and we just happen to be in a nesting season for several species," Molina added, noting that the endangered Iberian imperial eagle does not seem to be in danger due to the fire but the endangered lynx is in immediate danger.
The fire incident in Spain comes just a week after deadly wildfires killed more than 60 people in neighbouring Portugal.