At least 40 people have been killed and scores more injured in two explosions in the Syrian capital on Saturday (11 March).
The blasts took place near the Bab al-Saghir cemetery in the Old City of Damascus, which contains a number of historic and religious sites.
Many of the dead were Iraqi Shia Muslims on a pilgrimage to the area. They were on board two buses as the blasts went off.
Syrian state TV broadcast footage of the aftermath of the explosions, which showed the buses badly damaged with their windows blown out. Shoes could be seen scattered across the ground and blood soaked the area.
Citing Arab media, Reuters reported that the second blast came 10 minutes after the first – targeting the first responders and bystanders who attended to the initial casualties.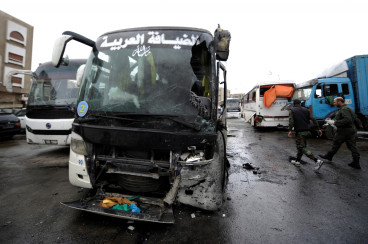 Shia shrines are frequently targeted in Syria, as well as in neighbouring Iraq, by the Sunni extremists of Isis and al-Qaeda.
Fateh al-Sham, a terror group linked with al-Qaeda, has claimed responsibility for the attack, reported AFP.
It is widely considered the group are attempting to disrupt ongoing peace negotiations brokered by Russia, Iran, Turkey and the UN. The fifth round of talks are due to take place on 23 March, after the most recent negotiations concluded on Thursday (9 March).
The pilgrims may have been targeted as Shia Muslims from Iran, Lebanon and Afghanistan have been among the strongest supporters of President Bashar al-Assad in the six-year conflict.
They were due to visit the Sayeda Zeinab shrine, which is venerated by Shia Muslims across the world.
It is said to contain the grave of Sayeda Zeinab – Prophet Muhammed's granddaughter – and draws over a million visitors a year.