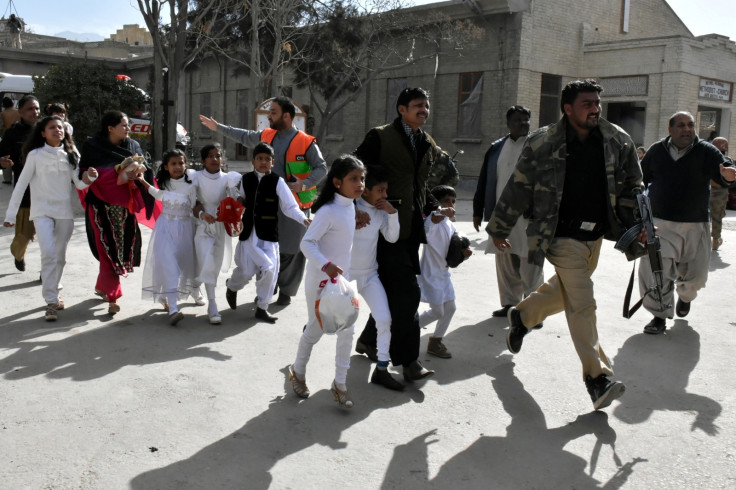 At least eight people were killed and more than 15 were left injured when a powerful suicide explosion targeted a church in Pakistan's Quetta city. The church was holding Christmas-related events for school children at the time of the attack.
Two suicide bombers launched the onslaught aimed at Pakistan's minority Christian community on Sunday, 17 December. While one of them detonated himself, another was shot dead by security forces during an intense gunfight. It is still unclear whether there was a third attacker. Initial reports had said there were four assailants in total but it was later corrected.
There were contradictory reports on the denomination of the Christianity to which the church belongs to. Multiple reports say it was a Catholic church and others mention it as Methodist.
About 400 people were present inside the church when assailants mounted an attack. Security forces say both suicide bombers were killed as they tried to enter the worshipping place. They say the death toll could have been much higher if the suicide attackers had managed to find their way into the church as there were many worshippers.
Security personnel are still clearing the area for any hiding suspects. Local police and paramilitary forces have cordoned off the area. The church was holding 'Sunday School Christmas Programme" – as part of its month-long events to mark Christmas – when it came under the attack. The Bethel Memorial Church had witnessed terror attacks in the past as well.
All the injured people have been taken to the Civil Hospital Quetta for medical treatment. A state of emergency has been declared in hospitals across Quetta, the provincial capital of Balochistan.
"All doctors and paramedics staff shall be vigilant and must use all available resources to give maximum proper health care facilities to the injured ones," read a statement from the provincial government's health ministry.
Prime Minister Shahid Khaqan has condemned the attack and urged local authorities to step up emergency measures.
Quetta and other parts of Balochistan frequently witnesses a series of onslaughts especially against security forces and minority groups. The Pakistani government is struggling to contain the rising insurgency in the restive region.