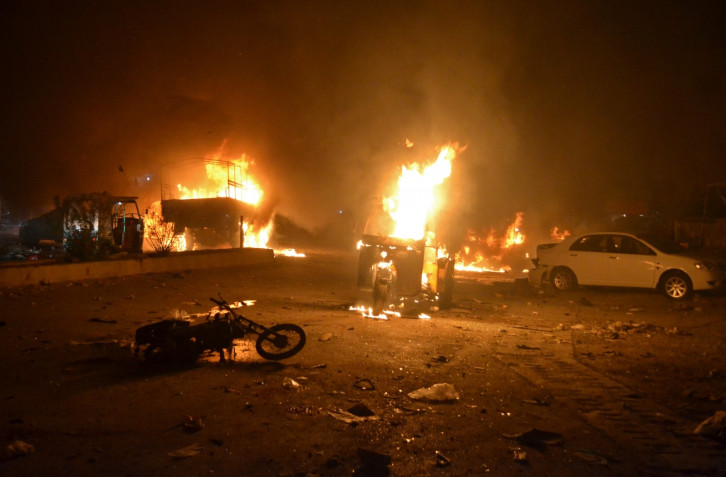 A powerful blast targeting an army truck in Quetta in Pakistan's Balochistan province killed 15 people and left at least 40 others injured on late Saturday night, 12 August.Eight of the victims were soldiers.
The Inter-Services Public Relations (ISPR), Pakistan army's media wing, said the "terrorists" used "incendiary explosives" because of which several vehicles also caught fire in the area. Dead bodies and injured victims were taken to Civil Hospital Quetta.
The explosion was caused by a suicide bomber, who was thought to be on a motorcycle. About 25 to 30kgs of explosives were used by the bomber.
The blast comes as the country is set to mark its Independence Day on 14 August. The bombing took place near a stadium, where preparations were underway for the Independence Day festivities.
The explosion was loud enough to be heard across Quetta, the provincial capital of restive Balochistan. Holidays of doctors in nearby hospitals were suspended and they have been asked to report immediately to deal with the emergency situation.
The country's military chief General Qamar Javed Bajwa said the extremists behind the bombing would face serious consequences. "Our resolve won't succumb to any challenge."
The death toll may climb further as many of the wounded victims suffered serious injuries.
"We are trying to transfer injured people to hospitals as soon as possible. Workers are also busy extinguishing the fire at the site," Anwar ul Haq Kakar, Balochistan government spokesman, said.
No group has claimed responsibility for the blast so far. Quetta and other parts of Balochistan frequently witnesses a series of onslaughts especially against security forces in the recent past. The Pakistani government is struggling to contain the rising insurgency in the region.