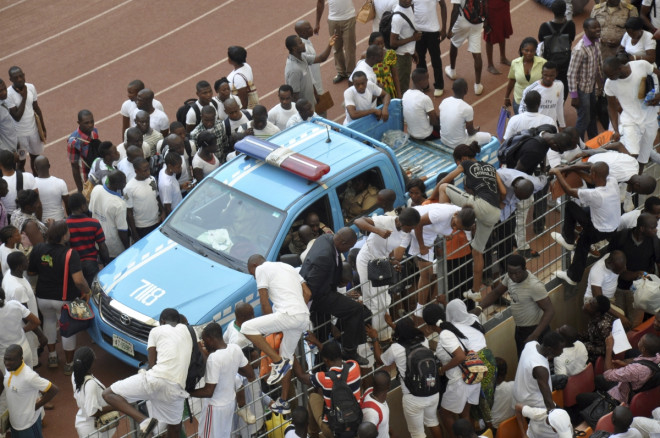 At least seven people, including two pregnant women, are believed to have died and dozens are reported injured after a government recruitment drive in Nigeria's capital Abuja turned chaotic and people began charging towards a central stage.
The government had invited applications for jobs in its immigration department and the response was overwhelming, with thousands of people attending the stadium. It is reported only one entrance was open. One survivor said he believed "more than 100,000 people came for this test." His claim was disputed by other eye-witnesses.
Survivor Rosemary Ogida said: "I cannot even imagine the number of people that stamped on me. I just remember being picked up by three men."
Ogida, who regained consciousness in a hospital, said she lost her original university diploma in the stampede. At least 40 others have been admitted to the national hospital in the city, and doctors have said the death toll may rise. Some sources have already put the death toll as high as 12.
Unemployment is rife in the West African state. According to the National Bureau of Statistics 37.5% of under-25s are unemployed. Government jobs are highly desirable because of the salary and job security they offer.
Another eye-witness, who called himself "Mister John", said he believed most people coming to the stadium had no chance of ever finding jobs, despite having to hand over a registration fee: ''We are all fooling ourselves by coming here to choke ourselves to death. You will agree with me that those who will be employed at the end of the day never really came for the examination. It's sad and it's unfortunate that some us have to face this in this very unfortunate country.''
Deadly Crushes in African stadiums
The Abuja stampede is the latest in a long line of stampedes at African sports stadiums, but by no means the worst:
South Africa, 11 April 2001: 43 people crushed at Ellis Park Stadium
Ghana, 9 May 2001: 127 killed at Accra Sports Stadium
Zambia, 2 June 2007: 12 people killed at the end of a football game between Zambia and Republic of Congo
Democratic Republic of the Congo, 14 September 2008: At least 11 people killed at a football match in Butembo
Ivory Coast, 29 March 2009: 19 people killed at Houphouët-Boigny before a match between Malawi and Côte d'Ivoire.