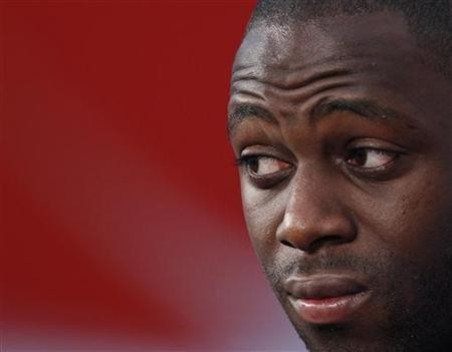 When Ledley King announced his retirement aged just 31, there was a sad sense of inevitability and a feeling that the central defender had been denied the opportunity to fully demonstrate his God-given talent.
For the last five years King was unable to properly train, yet he somehow continued to deliver assured performances, despite being robbed of the natural athletic gifts that made him such a standout defender in his early years.
In fact, it is credit to the man that he continued to be considered one of the finest defenders in the Premier League. King may have lost that yard of pace that is deemed so crucial, but his ability to the read the game and offer a calming presence in an area where mistakes are gleefully accepted, meant that he remained an indispensable member of the Tottenham Hotspur first team.
Having finally walked away from the game, King brings the same qualities he demonstrated on the pitch to his new role as a club ambassador at Tottenham. He is calm and assured in giving his answers and speaks with a genuine passion about the club.
There is a glowing recommendation for the work being done by Andre Villas-Boas and a sincere belief in the young players emerging. But first we must find out how he is coping five months after retiring from professional football.
"I'm really enjoying still working with the club as I don't know what I would be doing right now, probably lying on a beach somewhere, but I can't imagine not being here," begins King, who joined the club as a 14-year-old and has never left.
"The last five years were really difficult as I couldn't train properly and I was just trying to get the most out of myself. I constantly judged the knee but it was my love of football, my feelings for the club and for the supporters which kept me going."
While King admits the summer was a difficult period as he found himself with nothing to prepare for the first time in more than 16 years, he has quickly settled into his new role as he continues to be heavily involved with the running of the club.
He regularly casts his eye over the next generation of young players in the academy, hoping to spot that rare talent that can emulate his own career which took him from the youth team to playing Champions League football and representing his country.
"I've been very impressed with some of the young players at the club as you don't get to see much of them when you are playing as you train on different pitches," explains the England international, who was given his chance in the first team at just 19. "But now it is nice to see the real talent we have at the club.
"We have some promising young players, like Alex Pritchard, that just need a bit of work and hopefully they can push through to the first team in the years to come."
While King is clearly keen to keep himself immersed in the progression of the club, he currently has to do so from afar as he has yet to complete his coaching badges. However, that has not stopped him from spending the odd session learning from the current Tottenham coaching staff.
"I've been at the training ground helping Tim Sherwood and Chris Ramsey, so they are teaching me a little bit about what it takes. I am enjoying watching and learning and if it is something that I eventually feel like pursuing then I will have learnt from good people," said King.
"It's something that already interests me but right now it is just about getting the badges done and then in the future I know that I will be ready."
For now King remains in his role as a club ambassador. That entails working with club sponsors such as Under Armour as he promotes their campaign named Road to Glory which will give five Spurs fans the chance to watch the final game of the season against Sunderland. This sort of global promotion is what comes with working for a brand like Tottenham; however, the game itself remains his true passion.
He may not be working closely with Villas-Boas but he has seen what the ambitious Portuguese manager has brought to the club. Jermain Defoe appears rejuvenated, which comes as no surprise to King who says he lives to score goals, while there have already been some major highs, such as defeating Manchester United at Old Trafford for the first time since 1989.
There have also been moments of unrest with supporters, but these have been fleeting and King believes the new manager deserves time to instil his philosophy on the club.
"There have been some major changes at the club but the fans need to stay patient. We have shown in spells what we are capable of and it is just trying to find that consistency, but that will come."
But does King believe this side is capable of bringing elite European football back to the Lane? "The ain for the season is to get Champions League football as last year was incredibly unfortunate.
"Hopefully we can get another top-four finish and look to push on from there as we have a good project and a young manager. Like I say, it will take a bit of time, but if we can finish in the top four then I really feel this side can push on and achieve great things."
One player who will be crucial in helping the club move forward is 20-year-old Steven Caulker. The defender has been compared to King, not just because of their similar route to the first team, but because of the attributes he has demonstrated since forcing his way into the first team.
Caulker has a commanding presence that allays any doubts about his inexperience. King is a genuine admirer and believes he can become a leader for both club and country.
"He can go right to the top, there is no doubt about that," states King. "He has been brilliant so far this season and I think the loan spell really helped him. Being at a club like Swansea, they like to get the ball down and play and it was a great club for him to learn about the Premier League.
"I have no doubt that he will play many, many games for Tottenham and England. One of the things that comes across is his calmness. As a young defender you will always make mistakes but I have been really impressed with the maturity of one so young. He definitely has a big future."
King speaks with pride about the performances of the young defender and it becomes abundantly clear that he still has plenty to offer the younger players. There is no hint of bitterness that his own career has been cruelly cut short while another blossoms.
King was a classy man on the pitch, and he remains equally dignified off it.
Under Armour and Tottenham Hotspur have launched The Road to Glory - an online search to find the most passionate Spurs supporters around the World. To find out more visit http://RoadtoGlory.UA.com/