Lee Kuan Yew death: Black or white, what should Singaporeans wear for his funeral?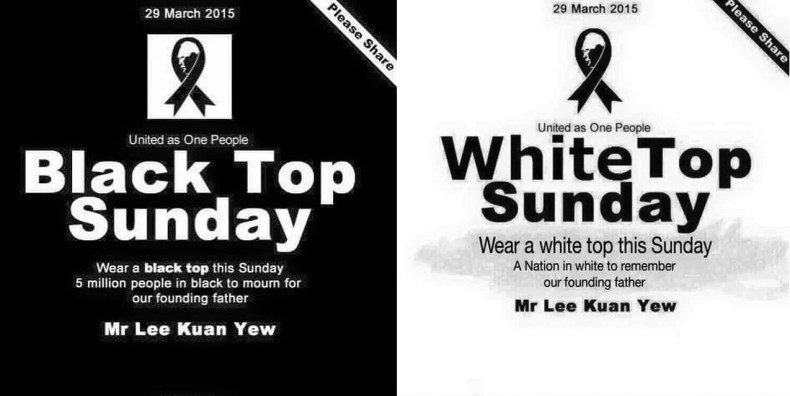 A debate is raging over social media in Singapore about whether citizens should be wearing the colour black or white when paying their last respects to Lee Kuan Yew, Singapore's founding father during his funeral on Sunday 29 March.
Image-based messages have been circulating since Tuesday over Whatsapp, Facebook and Twitter, bearing the black and white ribbon logo released by the Singapore government to commemorate Lee's passing.
However while the initial messages requested that citizens turn out in black tops for his funeral, which follows the traditional colour worn during times of mourning, that is currently being worn by members of the public queuing up to visit Lee's body in state at the Istana, other messages requested the complete opposite.
The other message being spread over social media, which could have been in response to the initial black top call to arms, instead asks for citizens to turn up in white tops.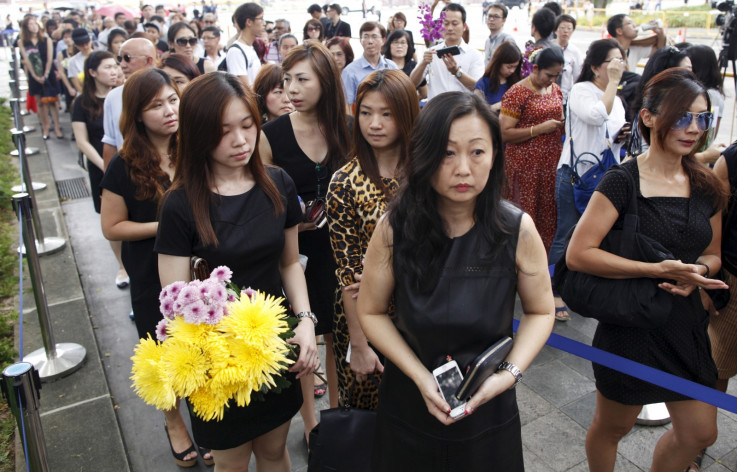 Thousands of Singaporeans are spending between 4-8 hours a day queuing up to pay their respects at the Istana. They're mostly wearing black, although there is some white too
Reuters
White is traditional colour of the People's Action Party (PAP), the ruling political party in Singapore that Lee helped to found.
Every year on National Day – the country's Independence Day – a large parade is held and hundreds of PAP members turn up in white polo T-shirts and matching white trousers, as a show of solidarity to the party, so the recent request to wear white to Lee's funeral could also be as a mark of respect to the PAP.
However, it could also have something to do with Chinese superstitions. Chinese people take their superstitions very seriously, and as a rule do not like the colour black – in fact wearing the colour or speaking about death at all during Chinese New Year is strictly forbidden.
A message posted to local forum HardwareZone.com.sg reads: "If all five million Singaporeans wear black on Sunday, this could mean that after Mr Lee Kuan Yew's demise, henceforth Singaporeans will begin to have 'dark days' of living. Mr Lee Kuan Yew, rest in peace in glory. Just wear plain mild (not bright) colours will do! Thanks! In gratitude and blessings!"
Even Singapore's Minister of Manpower Tan Chuan-Jin has added his two cents.
"White? Black? What's in a colour? Just wear your heart on your sleeve. I, for one, believe that even as we mourn and grieve, we are also celebrating his life and Our Singapore. It's something really remarkable isn't it?" Tan wrote on Facebook.
There has been no official word from the Singapore government about what citizens should be wearing to the funeral, but some people have their own ideas.
Lee's tailor Fong Loo Fern told Singapore newspaper The Straits Times that pink was Lee's favourite colour, and so a minority of Singaporeans have said on social media that they will adorn that colour.
Tan concluded that the colour really doesn't matter, just the effort: "A man came up to me yesterday apologising repeatedly that he was in a brightly coloured shirt. 'I had to rush over after work and was worried I couldn't make it in time,' [he said.] Uncle, what matters is that you cared enough to come. Doesn't matter the colour."