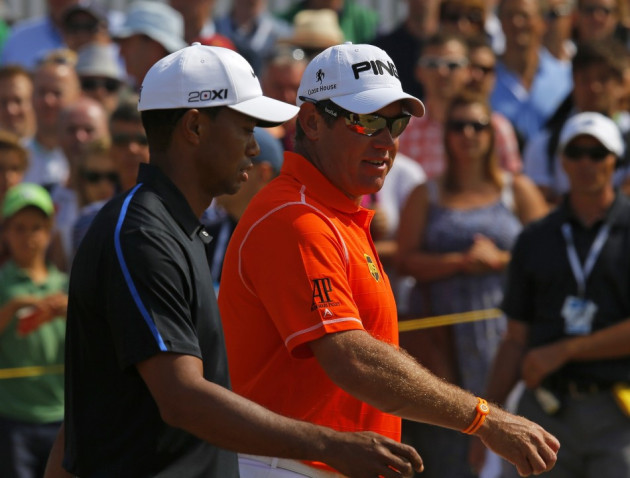 Lee Westwood is hoping 2014 is finally the year where he can grab his first major victory as Tiger Woods targets a haul that will see him overhaul two of the most revered records in golf.
The 40-year-old Englishman has amassed a remarkable CV inn his career including eight top three finishes in major championships and 22 wins on the European Tour, but is still missing an elusive major victory from his list of accolades.
After more disappointment in 2013, Westwood's third place finish at Muirfield largely epitomised just how close he has come over the years when he set the unwanted record of most top three finishes in a major championship without a win.
But as he prepares to tee off at the Northwestern Mutual World Challenge in Los Angeles, Westwood is already focused on rectifying that shortcoming in 2014.
"Winning a major is probably the pinnacle of everybody's career," Westwood told Reuters. "My focus heading into next year will be to just work on everything really, just try and improve every aspect of my game. That's what you've got to plan on doing, keep doing.
"My swing hasn't been in sync all of this year, really and I've sort of been fumbling my way around the golf course. It's something I'm going to work on over the winter."
For Tiger Woods, it is a very different story. With 14 major championship wins, he is four behind Jack Nicklaus' record tally of 18 and the 40-year-old admits catching up on the Golden Bear in 2014 will be an incredibly difficult proposition.
But with Sam Snead's career total of 82 wins on the PGA Tour also in his cross hairs, Woods admits he may have to settle for the latter, for now.
"Unfortunately I didn't win a major championship this year, I was close in the Masters and the British and a couple of little swings here and there it could have been a different story," Woods told Sky Sports.
"I won the Players Championship this year, which is a venue I've struggled on certainly over the years but I managed to put it together there.
"The easier goal is going to getting to Sam's record -you can get to there basically by playing the first three events of the year and win three in a row.
"But the major championships are a bit more spread out in April, June and July so it's certainly much harder to get to Jack's number than it will be to get to Sam's number.
"But both of them are significant numbers, significant milestones and hopefully one day in my career I'll be able to surpass both of them."