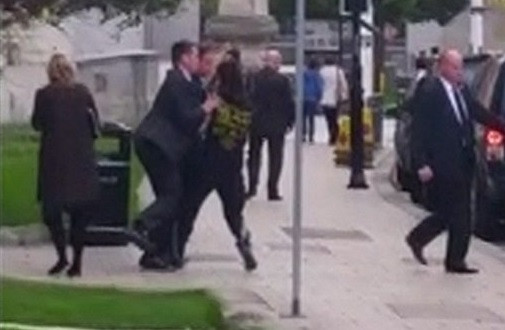 Prime Minster David Cameron has been "shoved" while walking through Leeds by a man described as being in "wrong place at the wrong time".
There were originally fears of a security breach as Cameron was approached by the 28-year-old as the prime minister made his way out of the Civic Hall.
The man could then be seen bumping into Cameron, before being quickly removed by the prime minister's security team and arrested.
Cameron was not harmed during the incident, nor did the impact push him to the ground.
It was originally feared the man was protesting against the government's HS3 high-speed rail scheme. However, West Yorkshire Police there was "nothing sinister" about the incident.
A spokesperson added: "A 28-year-old local man was briefly arrested after he came close to the PM's group, who had just left the Civic Hall.
"No threats were made, and after the man's details were checked, he was de-arrested and allowed on his way."