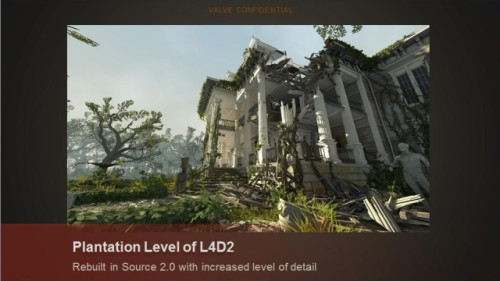 Popular NeoGAF leaker CBOAT has now posted what could possibly be screenshots of Left 4 Dead 3. The images are from the slides of an internal Valve presentation.
The screenshots in question feature visuals of the Left 4 Dead 2 map, Plantation, which has supposedly been rebuilt with the Source 2.0 engine, according to captions below the images. The images have been labelled "l4d3? (Source 2 Reveal)".
In the past, there have been rumors that the next L4D game would use the Source 2.0 Engine. Apart from this, back in 2012, Valve co-founder Gabe Newell said the company was working on "new engine stuff for a while," but also that they were "probably just waiting for a game to roll it out with", according to IGN.
So there is a good chance that Left 3 Dead 3 might just be the game that debuts the Source 2.0 engine.
The PowerPoint presentation also reads that apart from being built with the Source 2.0 engine, the game features "increased level of detail".
Another possibility is that these screens might just be a common exercise that's meant to test new Valve tools and technology. In this case, Valve might never make another Left 4 Dead.
Apart from L4D3, fans of Valve have also been waiting eagerly for information and announcements on Halfe Life 2's purported sequel, Half Life 3. Have a look at all the recent Half Life 3 rumors and developments over here.
Apart from this, a new development suggests that Valve might use Virtual Reality technology Oculus Rift in a big way in Half Life 3. Read more about that here.