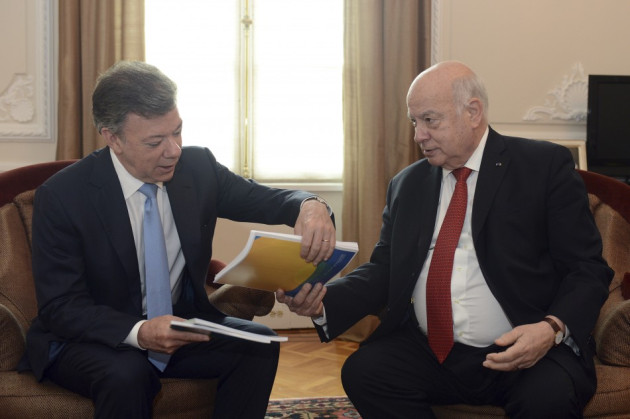 A new report has called on world leaders to consider decriminalising drugs as part of a major reassessment of global drugs policy.
The document, released on Friday 17 May by the Organisation of American States, was commissioned last year at a summit in Cartagena, Colombia, attended by US president Barack Obama.
At the meeting, a number of Latin American leaders declared that current prohibition policies were exacting an enormous social cost and called for a full analysis of the situation.
The report states that "alternative legal and regulatory regimes, starting with cannabis," could lead to "reallocation of resources from controlling drugs and drug users to preventing and treating problematic use (and) shrinkage of some criminal markets and profits through regulation."
Jose Miguel Insulza, General Secreatry of the OAS, said: "All of us who hold public responsibilities owe it to the millions of women and men, young and old, mothers and fathers, girls and boys who today feel threatened, to find clear answers and effective public policies to confront this scourge."
Experts have called the report a game changer, and say it is the first time decriminalisation has been laid out as a serious option in the war on drugs by a major international organisation.
"This takes the debate to a whole other level," Ethan Nadelmann, executive director of the Drug Policy Alliance, which advocates more liberal drug laws, told the New York Times. "It effectively breaks the taboo on considering alternatives to the current prohibitionist approach."
"While leaders have talked about moving from criminalisation to public health in drug policy, punitive, abstinence-only approaches have still predominated, even in the health sphere," Daniel Wolfe, director of the Open Society Foundation's International Harm Reduction Program, told the Huffingdon Post. "These scenarios offer a chance for leaders to replace indiscriminate detention and rights abuses with approaches that distinguish between users and traffickers, and offer the community-based health services that work best for those in need."
Previously, officials in countries at the centre of illegal drugs production and trafficking, such as Colombia and Guatemala, have argued that while they suffer enormous violence and corruption, nations such as the US and Canada where the drugs are consumed get off lightly. They believe that policies need to be tailored to reflect local needs.
"This report represents the most high-level discussion about drug policy reform ever undertaken, and shows tremendous leadership from Latin America on the global debate," Kasia Malinowska-Sempruch, director of the Open Society Foundation's Global Drug Policy Program told the Observer.
"It was particularly important to hear president Santos [of Colombia] invite the states of Europe to contribute toward envisioning a better international drug policy. These reports inspire a conversation on drug policy that has been long overdue."
The OAS is expected to discuss the report at a meeting in Guatemala later this year, and prominent Latin American leaders will advocate a shake-up of current policies ahead of a special UN summit on drugs policy in 2016.