Rebekah Vardy showcased her courageous personality on I'm A Celebrity last night by barely flinching when she and soap star Jamie Lomas smashed Bushtucker Trial, The Hole.
The 35-year-old mother was doused in 25,000 crickets and 50,000 cockroaches – as well as other stinking critters – with a squealing Lomas, but the pair managed to get through the hellish ordeal and win meals for the camp.
While covered in critters, Rebekah joked: "If my husband's voted me to do this, he's SO dead."
Hosts Ant and Dec both had a giggle at the quip, knowing that her Leicester City footballer husband Jamie had most definitely been voting back home.
The 30-year-old sportsman tweeted: "I might've voted a couple of times You've got this Bex", fully aware he'll be in the doghouse once she gets out.
One of his followers told him: "You're gonna be popular when she gets home ".
While another replied: "You best get hiding when she's back home lad ".
The famed striker has been rather vocal on social media about his wife's latest TV endeavour, simply posting a heart emoji when his wife of one year opened her care package from him which was a comfy pillow covered in a picture montage of their family.
He has also shown his pride about Rebekah's bravery, previously claiming he had voted for her "five times" to do the grisly eating trial last week.
He said: "Bex's face when she finds out that I voted for her 5 times on the app to do the eating trial Sorry babe just wanted everyone to see that you're fearless & you proved me right "
Meanwhile, Rebekah revealed on last night's episode that she intends on spending some of her I'm A Celeb appearance fee on "a new rack" – claiming she is planning a second boob job in January.
Speaking to Made in Chelsea star Georgia Toffolo, she looked down at her breasts and said: "I am going to get them redone, in January next year. Amazing."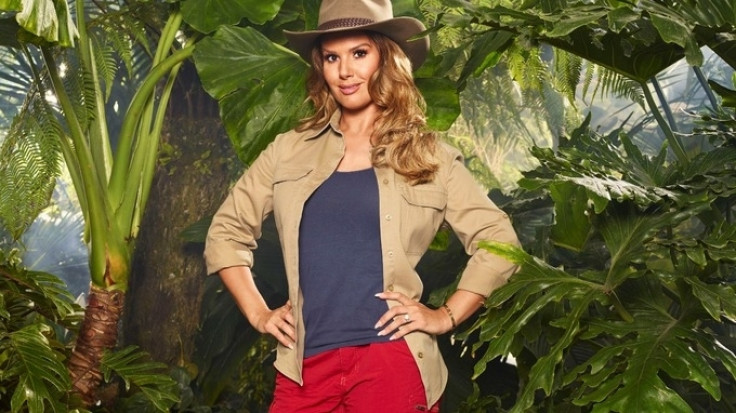 Toff replied: "A fresh set of tits for 2018, what a treat. Lovely. You could get a new nunny whilst you are at it. They are all the rage."
Rebekah said: "I think my nunny is OK, even though I have had four kids. That's the headlines tomorrow. Haha."
Predicting today's headlines, Toff joked: "Rebekah Vardy opts not to go for the designer vagina, but actually prefers to get herself a new rack for 2018."
When she was interviewed in August last year about if she had ever had Botox, Rebekah said: "Loads", before adding: "And I've had a boob job, too. I can't bear it when women lie about this stuff. I go in the sun and I've hardly got any wrinkles. It's not nature, it's Botox."