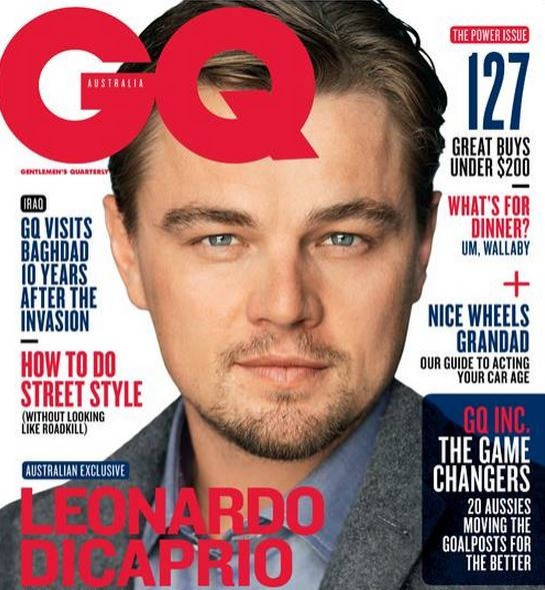 American actor Leonardo DiCaprio looked classy as he graced the cover of GQ magazine's Australia edition.
The 38-year-old Hollywood star talked about career, films and his trip to Australia.
DiCaprio, who is a successful actor and producer, revealed he isn't sure if he will ever take up a position of director.
"I've been talking about it (directing) a lot," he said, adding, "But I'm still not sure I'm going to do it. When you're a director you have so many different elements you need to be in control of. I get very obsessive when I do movies and it encompasses my life. And I don't know how I'd react to 200 different people asking me questions. I might spiral off into some other dimension of obsessiveness. For now, playing the character and being responsible for myself is what I'm doing. But you never know. I might give it a try. Because it does seem fun."
The Titanic actor who had been busy promoting his movie, The Great Gatsby at the Cannes Film Festival, explained his role as Jay Gatsby.
"I think anyone and everyone worldwide, when they read The Great Gatsby, identify with the dreamer in him. We all have these images of who we could be, or dreams of what we can become. And I can relate that to being an actor, and wanting to be an actor, and never knowing whether you can achieve those dreams," he said.
The Django Unchained star who has always been actively involved in environmental issues and set up the Leonardo DiCaprio Foundation in 1998, detailed about his first scuba-diving experience.
"I remember being there for about a week (when he flew in to test for the lead in Romeo and Juliet) and I had my first scuba-diving experience on the Great Barrier Reef. I remember entering an entire Dr Seuss world. I hadn't seen anything like that and it's burned into my imagination forever... As for Australian women, what can I say? All Australians are awesome in my book," DiCaprio said.