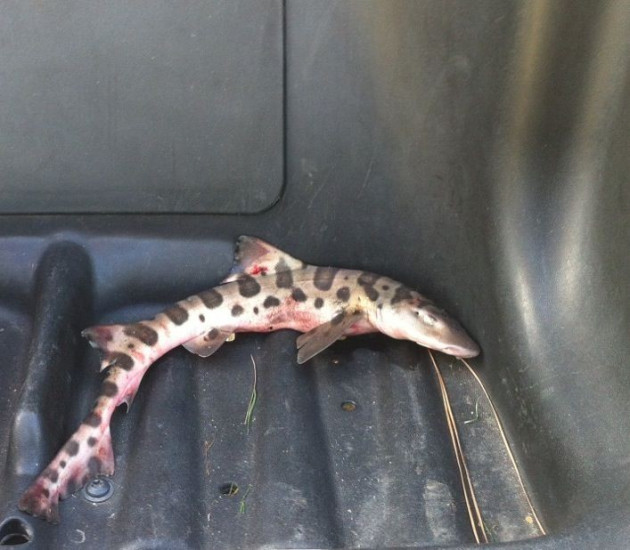 A two foot long shark fell from the sky on to the grounds of San Juan Hills Golf Club (SJH) in southern California earlier this week.
The shark with black spots on its back, identified as leopard shark, fell alive and was later returned to the ocean, about four miles (6.5 km) from the club.
"Yes, a LIVE Leopard Shark fell from the sky onto OUR Golf Course," the SJH Golf Club posted on its official website along with a photograph of the shark, adding in excitement, "To honor the Leopard Shark that survived a journey to our golf club, we are offering 40% OFF all Greg Norman merchandise in our Golf Shop."
The golf course staff believe the shark was plucked from the Pacific Ocean by an ambitious sea bird but it the let its feast slip from its grasp.
"Honestly, this is the weirdest thing that's happened here," Director of Club Operations Melissa McCormack told The Capistrano Dispatch.
"We have your typical coyotes, skunks and the occasional mountain lion, but nothing like a shark," McCormack was quoted as saying by the Associated Press.
McCormack said that a course marshal spotted the shark when he saw something wriggling around the tee and was quick to act to save the shark's life. The marshal rushed to the club house to put the animal in water first - am ove that could have killed it because the water was unsalty. Another employee, Bryan Stizer, then rescued it by replacing the shark in salt water. McCormack, Stizer and marshal then drove the shark to the ocean and freed it.
"I thought he was dead. When I dropped him into the water, he just lay there for a few seconds, but then he did a twist and shot off into the water," Stizer explained.
According to the California's Department of Fish and Game, Leopard sharks, also called cat shark, are abundant in bays and along sandy beaches of southern and central California in shallow water.