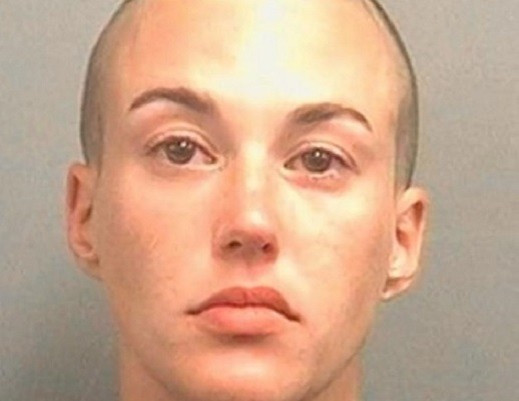 A skinhead lesbian "sadomasochist" launched a violent attack with a vibrator on her older girlfriend.
Mia McCarthy, 23, told police "no means yes" in her relationship with the 52 year-old woman in Florida.
McCarthy violated her partner with the sex toy on the night of the woman's birthday in July, after the pair spent a night drinking and smoking cannabis to celebrate.
In an affidavit published by the Smoking Gun website, the victim said: "I absolutely did not want her to touch me and she, at that point, that night raped me."
In the statement, McCarthy claimed: "I didn't stop, I meant to stop." She claimed she thought the woman was enjoying it, but admitted knowing she was causing pain. McCarthy said she thought her partner was exaggerating by claiming she was in pain.
The incident was followed by another last month, when McCarthy allegedly choked the woman and scratched her, before warning: "breathe and I'll kill you."
The pair had been in a relationship for nine months and lived together at a property in Palm Beach, Florida. The woman claimed she lived in fear of McCarthy and feared she would kill her.
McCarthy was charged with two counts of battery, sexual assault and attempted murder. She was remanded in custody on $55,000 bond.