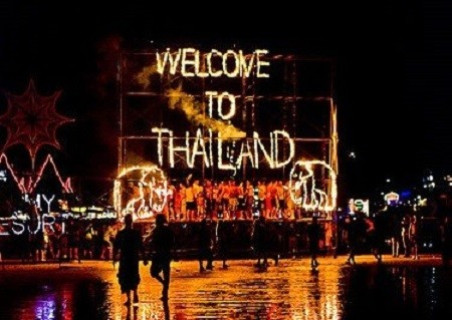 The top destinations for gap year students planning a trip abroad are Thailand, Australia and the US.
Hundreds of thousands of young people have received their A-level results and many are planning to head overseas before settling down to work or university.
Over 300,000 teenagers received their results and the overall pass rate rose to 98.1%, following a 20-year trend.
The number of top grades awarded in this year's A-Level results were down slightly on last year, with 26.3% of exam entries given an A or A* grade - a drop of 0.3% from 2012.
The Association of British Travel Agents (Abta) estimated that 24,000 students would take a gap year this year and has compiled a list of the most popular destinations for the backpacking experience.
It found that Thailand was the most popular choice, followed by Australia, the US and South Africa. Other destinations in the top 10 are Peru, Vietnam, Brazil, India, New Zealand and Fiji.
The company said that more school-leavers were looking to have a gap year - but for a shorter period because of financial pressure.
The most popular activity requested by school leavers for the 2013/14 gap year was work experience placements or internships abroad teaching English as a foreign language or bar work. Other students were interested in working with local communities or on wildlife conservation projects.
Adventure gap years were also popular, with many looking to take part in surfing schools and ranching lessons. Traditional backpacking has become less popular.
Victoria Bacon, head of communications, said: "Gap years have become even more popular among British teenagers since the rise in tuition fees in 2012 and increased competition for graduate jobs, with many students looking to travel experiences to help make their gap year stand out on the CV.
"There is an incredible choice of activities and destinations to support young travellers in developing and learning new skills.
"It's very important that if you're planning a gap year, you research your options thoroughly: talk to a travel professional, who will be able to offer you advice about destinations and experiences; check travel advice with Abta and the Foreign Office and always book with a reputable company."